NEWS
Taylor Swift's Daydreams Come True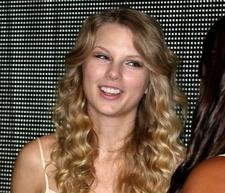 While your mother might've warned you when you were little to be careful what you wished for, Taylor Swift has gotten exactly what she always dreamed about, and now she's more than grateful.
"As far as burning out goes, I get tired a lot, but I never get tired of it," she told reporters backstage at the CMA music festival on June 14.
"I remember when I was a little kid, and I used to sit there and think about how lucky I would be if people cared about the words that I wrote. Or how lucky I would be if someday I was just walking through the mall and I saw some little girl walking by with my face on her shirt," she explains. "And when you spend so much time daydreaming about that stuff, when that actually happens, you don't ever complain about it, you know? When I go to a restaurant, yeah, I know that a line will form in front of the table, but didn't I used to wish for that? Yeah, I did."
Article continues below advertisement
With more grace than most older stars, much less an average 19-year old, Taylor adds that she's gotten just exactly what she's wished for.
"So I never want to be the girl who wanted something so bad her whole life – just only one thing – and then gets it, and complains about it. I'm not going to be that girl.