NEWS
Taylor Swift's "Fifteen" Director: "I Wanted This Video To Be An Evolution for Taylor"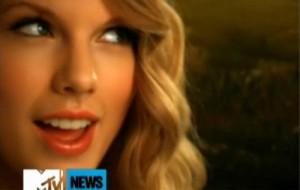 Taylor Swift's VMA-nominated "Fifteen" music video has a personal story behind it. Director Roman White opened up to MTV about making the video symbolic of Taylor's high school days, without being too literal.
"Well, I think I really wanted this video to kind of be an evolution for Taylor," White told MTV news. "I mean, obviously it's a high school song, but the last thing I wanted to do was shoot it in a high school. So I wanted to try something different, and I actually said to her, 'I don't think we should shoot in a high school.' And I don't think she wanted to either."
Article continues below advertisement
It doesn't seem like an easy task to make a video about high school without the setting of a high school present, but under White's direction, Taylor did just that.
"I kind of came up with this idea like, let's take the literal meaning of this song and watch it evolve in front of us ... almost as a memory in your head," he said. "And create this world, so you walk in on this desolate desert and you start to sing about all these great memories you have ... of everything you love blooming around you, and so we literally grew this garden around her."
OK! VIDEO: PREVIEW TAYLOR SWIFT'S "MINE" MUSIC VIDEO
"But also we added these surreal elements that came from the memory," he added. "It's kind of this cross between this surreal garden and this memory and she's at the heart of this memory."
Basically, Taylor was the only thing in the video not created by the computer.
"The rain was all digitally created. All the trees, all the flowers, everything was created by mouse, everything was created by computers," White explained. "The trees, the leaves, the rain, everything, the clouds. We had prop pieces of the desks and stuff ... so even things we had actual props of we re-created in 3-D on the computer."
The 27th annual MTV Video Music Awards air live Nokia Theatre in L.A. on Sunday, September 12, at 9 p.m.!
CATCH TAYLOR'S VIDEO FRAME BY FRAME VIA MTV!