NEWS
TCA ADVENTURES: Dancing with Derek Hough!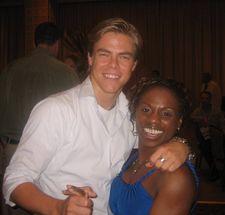 Ballroom-kicking it freestyle with Dancing With the Stars' Derek Hough.
What a way to start my first Television Critics Association conference, held this year at the Beverly Hilton in Los Angeles.
I was barely off the plane and checked into the hotel before I found myself chatting up Eli Stone's Loretta Devine. That story in a minute. Let's get back to Derek.
ABC threw a dinner and dancing party with the DWTS' pros. Ballroom husband and wife Alec Mazo and Edyta Sliwinska lead eager journalists through some basic steps. I was standing directly in front of Derek, so he took me on as his partner.
Article continues below advertisement
I've taken a few dance lessons in my lifetime. And I'm pretty good at faking what I don't know. Derek must have seen something in my skills.
After cha cha-ing through the routine we had just learned, Alec yelled "freestyle." And suddenly I was sashaying, spinning and swirling in Derek's capable hands.
We needed a grand finale, so Derek scooped me up off the floor and twirled me around several times before putting me back on the ground.
Let's just say the dismount was a little dizzying.
While I'm pretty sure Derek and I would kill it on Dancing With the Celebrity Journalists, there's a certain A-lister he'd love to teach a twirl or two to.
"Angelina Jolie," he told me after our show-stopping display. "I think any man on the planet would like to have her as a partner. She's as hot as hell."
Shaking your booty would be a great way to drop the baby weight, Ange!
Article continues below advertisement
Back to Loretta… The Broadway vet (she was Lorrell in the original Broadway production of Dreamgirls, holla!), is getting a chance to sing on Eli Stone, the series about a lawyer who has musical prophecies. Loretta wants to do it even more, and she'd like to do it next to her dream guest star, Patti LaBelle!
Loretta's ready to keep up her double duty on Grey's Anatomy as Adele, who has rekindled her romance with her estranged husband, the Chief Dr. Richard Webber.
And that's a good thing, according to the actress.
"James Pickens Jr. is a good kisser," she laughed.
I also listened to movie hunk Ashton Kutcher talk up his new reality game show Opportunity Knocks, and learned that Scrubs, which made the jump to ABC, will mostly likely see the exit of its star Zach Braff at the end of the season.
While Zach isn't sure what he's doing next, he does know what will happen to JD and Turk's stuffed pet Rowdy.
"I'm getting him. I laid claim on Rowdy," he told me.
Not a bad first day at all!
Check back for my second day of TCA adventures tomorrow!