NEWS
Ted Williams' Next Endeavor: Jack Nicholson's Costar?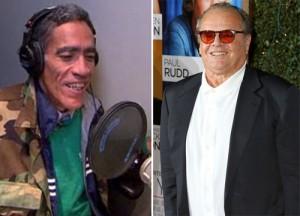 Looks like the man with the celebrated "golden voice" may team up with Hollywood's golden guy! Ted Williams, the homeless man who went from panhandling on the streets of Columbus, Ohio, to national fame after a video featuring his smooth, friendly radio voice went viral on YouTube, has received an offer from Oscar-nominated, veteran actor — Jack Nicholson.
Job offers for the former panhandler — whose battles with drug addiction and alcoholism left him homeless for the past 10 years — have been pouring in with offers from the Cleveland Cavaliers to ESPN, NFL, Today show and being named the official voice of the Kraft Macaroni and Cheese brand.
Article continues below advertisement
The latest offer, however, is of a different natures, stemming from Hollywood!
"As a matter of fact, Jack Nicholson had contacted one of my in-laws who happens to be in Columbus Ohio," Ted told Entertainment Tonight in one of his many recent TV appearances. "They're supposed to be making a movie in which Jack is playing opposite a disc jockey, which he would like me to portray in the movie."
Can you see Ted's internet stardom launching him to Tinseltown fame? Do you want to see him on the big screen?
Share your opinions in the comments!