NEWS
Teen Choice Awards Recap: 'Harry Potter' Wins Big & Justin Bieber Proclaims Excitement to See Selena Gomez Perform!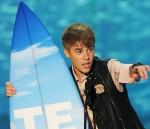 Last night, the Teen Choice Awards read like a who's who list in Hollywood! From Justin Bieber to Selena Gomez to Taylor Swift and Cameron Diaz, the stars were definitely sparkling! Taylor cleaned up with the Ultimate Choice Award and five other statues but the Biebs, Selena, Harry Potter and Glee did pretty well for themselves, too!
OK! VIDEO: LISTEN TO JUSTIN BIEBER RAP ON CHRIS BROWN'S NEW SONG "LADIES LOVE ME"
Article continues below advertisement
In fact, right before he headed into the awards ceremony, Justin told OK! who he was excited to see perform and why. As if right on cue, he blurted out, "Selena because she's awesome!"
OK! VIDEO: WATCH JUSTIN BIEBER JOIN SELENA GOMEZ IN "WE OWN THE NIGHT" PRE-CONCERT PREP TALK!
Once inside, the super cute couple sat together and his arm was around her shoulder lovingly. Individually they won the male and female hottie Teen Choice Awards! During Selena's performance, Justin beamed with a big smile and vibed along to the song. After the show, they walked back to the car together, holding hands and at one point, he protectively had his hand on her back guiding her to the car.
Article continues below advertisement
Movie: Action
Fast Five
Movie Actor: Action
Johnny Depp, The Tourist
Movie Actress: Action
Angelina Jolie, The Tourist
Movie: Sci-Fi/Fantasy
Harry Potter and the Deathly Hallows: Part 1
Choice Movie Actor: Sci-Fi/Fantasy
Taylor Lautner, The Twilight Saga: Eclipse
Choice Movie Actress: Sci-Fi/Fantasy
Emma Watson, Harry Potter and the Deathly Hallows: Part 1
Movie: Drama
Black Swan
Movie Actor: Drama
Robert Pattinson, Water for Elephants
Movie Actress: Drama
Natalie Portman, Black Swan
Movie: Romantic Comedy
Easy A
Movie Actor: Romantic Comedy
Ashton Kutcher, No Strings Attached
Movie Actress: Romantic Comedy
Emma Stone, Easy A
Movie: Comedy
Bad Teacher
Movie Actor: Comedy
Justin Timberlake, Bad Teacher
Movie Actress: Comedy
Cameron Diaz, Bad Teacher
Movie: Horror
Paranormal Activity 2
Animated Movie: Voice
Johnny Depp, Rango
Movie: Chemistry
Adam Sandler and Jennifer Aniston, Just Go With It
Article continues below advertisement
Movie: Liplock
Emma Watson and Daniel Radcliffe, Harry Potter and the Deathly Hallows: Part 1
Movie: Hissy Fit
Ed Helms, The Hangover Part II
Movie: Male Scene Stealer
Kellan Lutz, The Twilight Saga: Eclipse
Movie: Female Scene Stealer
Ashley Greene, The Twilight Saga: Eclipse
Summer Movie
Harry Potter and the Deathly Hallows: Part 2
Summer Movie Star: Male
Daniel Radcliffe, Harry Potter and the Deathly Hallows: Part 2
Summer Movie Star: Female
Emma Watson, Harry Potter and the Deathly Hallows: Part 2
Movie Breakout: Female
Brooklyn Decker, Just Go With It
Movie Breakout: Male
Alex Pettyfer, I Am Number Four / Beastly
TELEVISION
TV Show: Drama
Gossip Girl
TV Actor: Drama
Chace Crawford, Gossip Girl
TV Actress: Drama
Blake Lively, Gossip Girl
TV Show: Fantasy/Sci-Fi
The Vampire Diaries
TV Actor: Fantasy/Sci-Fi
Ian Somerhalder, The Vampire Diaries
Article continues below advertisement
TV Actress: Fantasy/Sci-Fi
Nina Dobrev, The Vampire Diaries
TV Show: Action
NCIS: Los Angeles
TV Actor: Action
Shane West, Nikita
TV Actress: Action
Linda Hunt, NCIS: Los Angeles
TV Show: Comedy
Glee
TV Actor: Comedy
Cory Monteith, Glee
TV Actress: Comedy
Selena Gomez, Wizards of Waverly Place
TV: Animated Show
The Simpsons
TV: Personality
Jennifer Lopez, American Idol
TV: Reality Competition Show
American Idol
TV: Reality Show
Jersey Shore
TV: Male Reality/Variety Star
Paul "Pauly D" Del Vecchio, Jersey Shore
TV: Female Reality/Variety Star
The Kardashians, Keeping Up with the Kardashians
TV: Villain
Justin Bieber, CSI
TV: Female Scene Stealer
Katerina Graham, The Vampire Diaries
TV: Male Scene Stealer
Michael Trevino, The Vampire Diaries
Summer TV Show
Pretty Little Liars
Summer TV Star: Female
Lucy Hale, Pretty Little Liars
Summer TV Star: Male
Article continues below advertisement
Ian Harding, Pretty Little Liars
TV: Breakout Show
The Voice
TV: Breakout Star
Darren Criss, Glee
MUSIC
Music: Male Artist
Justin Bieber
Music: Female Artist
Taylor Swift
Music: Group
Selena Gomez & The Scene
Music: R&B/Hip-Hop Artist
Eminem
Music: Rock Group
Paramore
Music: Rock Track
"Monster," Paramore
Music: R&B/Hip-Hop Track
"Run the World (Girls)," Beyonce
Music: Single
"Who Says," Selena Gomez & The Scene
Music: Male Country Artist
Keith Urban
Music: Female Country Artist
Taylor Swift
Music: Country Single
"Mean," Taylor Swift
Music: Country Group
Lady Antebellum
Music: Love Song
"Love You Like a Love Song," Selena Gomez
Break-Up Song
"Back to December," Taylor Swift
Red Carpet Fashion Icon: Female
Taylor Swift
Red Carpet Fashion Icon: Male
Zac Efron
Male Hottie
Justin Bieber
Female Hottie
Selena Gomez
Summer Song
"Skyscraper," Demi Lovato
Summer Music Star: Female
Katy Perry
Summer Music Star: Male
Bruno Mars
SPORTS
Athlete: Male
Shaun White (Snowboarding/Skateboarding/Surfing)
Athlete: Female
Shawn Johnson (Gymnastics)
OTHER
Vampire
Robert Pattinson
Comedian
Ellen DeGeneres
Twit
Justin Bieber
Web Star
Rebecca Black
Reporting by Gena Oppenheim