NEWS
'Teen Mom 2' After Show: Jenelle Opens Up About Her Fight For Son Jace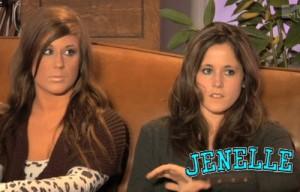 The cast of Teen Mom 2 sat down with MTV's SuChin Pak after the series debut of their reality show to engage with viewers and answer some pretty tough questions. The teen mom who seems to have the most drama in her life, Jenelle Evans, opened up about what it was like for her mother to seek legal custody of son Jace.
One of the most poignant moments of the Teen Mom 2 debut, was the fight between Jenelle and her mom Barbara. Barbara, who plays a very active role in caring for Jenelle's son Jace, served her daughter with custody battles.
Article continues below advertisement
During the After Show, SuChin asks Jenelle about how it made her feel to watch that difficult scene.
"It hurst me to see that fight because I feel like I look stupid. But at the same time of course you are going to get mad if your mother tries to take custody papers on you. I mean I'm sure everyone could preach to that. I mean I did overreact a little bit more. I could have laid off a little bit."
"It just shows how much you really care about Jace," Chelsea added coming to Jenelle's defense.
Why doesn't Barbara approve of Jenelle's parenting ways?
"I think it's because she wants me to do it her way, and if it's not her way than it's not the right way," Jenelle explained.
Article continues below advertisement
The 19-year-old mom also said if Jace was not in the picture, she would not live with her mom.
"When me and my mom don't live together we get along. When live together it's like World War II."
The girls also discussed why they decided to let cameras film their personal life.
"I really wanted other girls to see all my struggles and hardships I had to go through," Jenelle shared.
Chelsea added: "Hopefully we're helping some girls and showing other girls you don't want to get pregnant at a young age because it is really difficult."
Learn more about Jenelle's dilemma and hear from all the teen mom's in the the clip, via MTV, below!
FOR MORE ON TEEN MOM JENELLE EVANS — INCLUDING HER FIGHT FOR HER SON JACE — PICK UP THE NEW ISSUE OF OK! — ON SALE EVERYWHERE THURSDAY!