NEWS
Teen Mom 2 Exclusive Scene: Kailyn Worries About Jo Dating Someone Else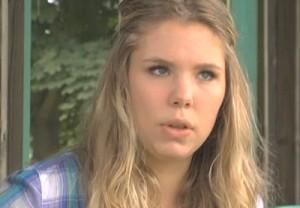 On last night's episode of Teen Mom 2, Kailyn Lowry took a needed break from her es-boyfriend/baby's father Jo. Even though Kailyn knows it's not best for her and Jo to be together, she admits she doesn't want to see him with another girl.
"If we're not working out, me and Jo, that means Issac suffering," Kailyn tells her friend in an exclusive scene released on MTV.com. "Every time we talk he finds a reason for me to rely on him. There is always something wrong with what I'm doing."
Article continues below advertisement
Kailyn does explain that her "plate is full" and she really isn't interested in dating right now; however, in last night's episode the teen mom began hanging out with her coworker Jordan.
At first, she was worried how Jo's family would feel if they saw her with another guy, but she begins to really like Jordan and has taken their relationship status to Facebook.
Meanwhile, she hopes Jo doesn't find someone else soon.
"I always said I didn't care if he dated someone else, but I kinda feel like, maybe... Not that I want to be with him, but I don't want him to be with anyone else either, which I know is selfish, but I feel it's natural.