NEWS
'Teen Mom 2' Recap: Jenelle Evans Physically Fights Her Roommate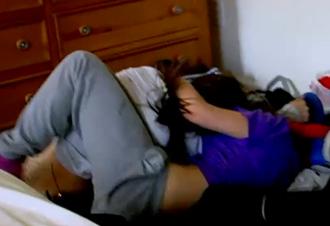 Warning: mysql_ping(): MySQL server has gone away in /home/wpcom/public_html/wp-content/db.php on line 481 amokmagazine.wordpress.com
Jenelle Evans and her roommate got into a huge fight on Teen Mom 2 last night — and things got very physical. The teen mom had a screaming match with her roommate while threatening to move out — and the girls end up beating on each other.
OK!'S ULTIMATE TEEN MOM PHOTO GALLERY: MACI BOOKOUT, LEAH MESSER & MORE!
Article continues below advertisement
Last night's episode of MTV's Teen Mom 2 revolved around Jenelle's concerns about Keiffer being faithful. "As long as you call another girl that is not me or your mother, that's it," Jenelle warned him. "It's like done."
Keiffer eventually confessed that his ex-girlfriend was texting him, but he told her to stop. Still, their relationship is rocky.
"He doesn't care about me," Jenelle cried to her roomate. "No one f***ing cares about me."
Although Jenelle's roommate, Tori, was trying to be consoling, Jenelle starts taking her anger out on Tori and starts complaining about her boyfriend always being over. The girls' argument got so heated that Jenelle threatened to move out and tried to start gathering her belongings from Tori's room right away. Tori (who happened to be holding drumsticks for some unknown reason) tells Jenelle to get out of her room. When Jenelle didn't listen, Tori grabbed her hair.
Article continues below advertisement
That's when things really turned ugly.
The girls started bearting on each other (with drumsticks) and instead of their boyfriends coming in to pull them apart — they start fighting each other, too!
Don't worry, Jenelle's son Jace still lives with her mother and was not near the fight. But it seems it's just another example of how it's a slow process for Jenelle to straighten up her life to get back custody of Jace.
Article continues below advertisement
As for Leah Messer, we're slowly watching her marriage to Corey Simms collapse. Leah wanted to go hunting for a new trailer to live in for their family, but Corey would rather buy himself a truck. Needless to say, they weren't getting along.
In real time, Leah has become engaged to Jeremy Calvert and was pregnant with their first child, but recently suffered a miscarriage.
Watch a clip of the huge fight, below.