NEWS
'Teen Mom 2' Star Jenelle Evans & Gary Head Call Off Their Engagement!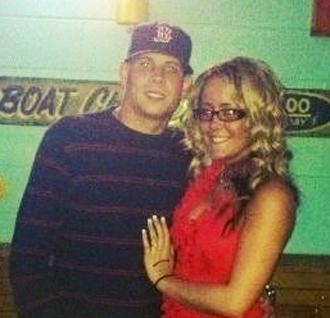 In not so surprising, but sad news, Jenelle Evans has called off her engagement from boyfriend Gary Head after the couple had a full-out brawl on Twitter.
"So numb. Feel like throwing up," the Teen Mom 2 star Tweeted, before sending out multiple messages to Gary and her friends about their devastating and drama-filled split.
OK! NEWS: TEEN MOM 2 STAR JENELLE EVANS IS ENGAGED TO GARY HEAD!
"Thanks to @gary_head for stealing my $300 Tiffany necklace... What marine does that ?!" Jenelle wrote, later posting a photo of a text message that Gary sent her about the necklace, which read, "It will probably look better on Hannah Inman, Jenelle's roomate anyways for you taking her clothes. She would love it."
Article continues below advertisement
"Yupp that's what my "fiancé" just said to me, how caring," Jenelle Tweeted along with the picture. "Bawling my eyes out at the top of my lungs."
Gary was fully invested in this Twitter war, letting followers know that Jenelle would get her necklace when "I get me ring back," referring to the engagament ring he bought Jenelle.
"If u never went and cheated on me.... then I would trust u more," Jenelle Tweeted at Gary and her co-star Chelsea Houska, whom he apparently flirted with.
"Cause you have a reason to be jealous over Chelsea? I don't even know her," Gary replied. "I just made a comment."
"I'm not jealous of anyone and never will be," the Teen Mom 2 star answered back. "I can't trust u talking to any girls."
OK! NEWS: TEEN MOM 2 STAR JENELLE EVANS SHOWS OFF HER NEW BREAST IMPLANTS ON TWITTER
Jenelle revealed to her followers that she and Gary talked to the police and the ring is hers unless he decides to take her to civil court and fight for it.
"Perfectly explained," Jenelle finally Tweeted, attaching a photo reading, "I miss your smile...but I miss mine more."
Sounds like these two are seriously over — what do you think?