NEWS
'Teen Mom 2' Star Jenelle Evans Hospitalized for a Kidney Infection, Exclusive Details!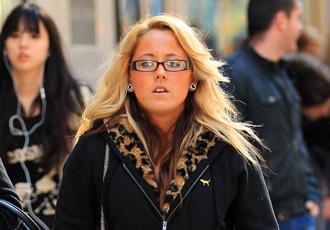 Jenelle Evans' manager, Leo Daniels, reveals to OK! exclusively that she was admitted to New Hanover Regional Hospital in Wilmington, N.C., on Tuesday afternoon after suffering from a kidney infection.
The Teen Mom 2 star, who was recently arrested again for violating an order of domestic protection on Jan. 17, took to her Twitter to share the news about her medical emergency, writing, "Feeling better after a trip to the hospital last night."
Article continues below advertisement
OK! GALLERY: TEEN MOM 2 JENELLE EVANS LIGHTS UP AT A GAS PUMP IN N.C.
"Jenelle went into the hospital that afternoon and was released about 11:45 p.m., that same night," Leo tells OK!. "She's doing fine now. She went to school last night and felt okay. They gave her some medications and antibiotics."
Although Leo doesn't know what might have caused Jenelle's kidney infection, he does say that she was experiencing an extreme amount of pain.
"She went to class and she started having a lot of pain," he explains. "She went to the bathroom and was urinating blood, so with the pain and that, she drove herself to the hospital."
Leo confirms that MTV was not there to film her hospital visit, but that they did shoot Jenelle's arrest last week.
OK! NEWS: TEEN MOM 2 JENELLE EVANS RELEASED FROM JAIL AFTER SECOND ARREST IN ONE WEEK
As for whether or not Jenelle is trying to clean up her act, Leo says she's learning from her mistakes. "She's learning not to repeat the same mistakes," Leo, who says he's trying to get her on the right track, tells OK!. "Jenelle is trying to clean up her image, but she's also hoping that people will see the struggles that she's gone through. She wants to help others, and let them know that they're not the only ones that struggle."