NEWS
Teen Mom Crisis: Amber Steals Leah Back!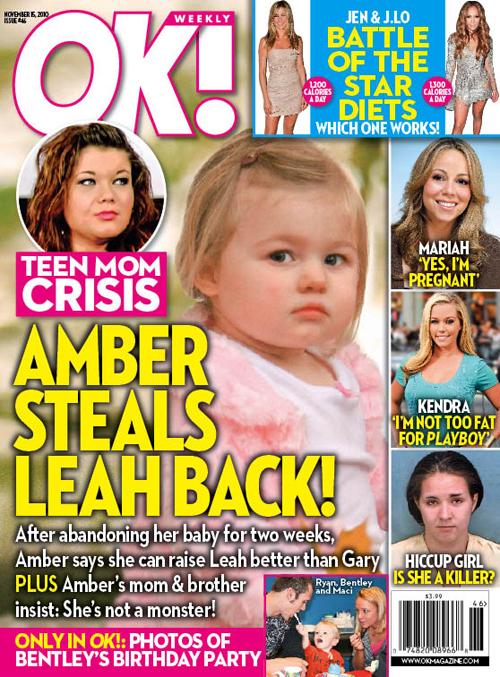 Teen Mom Crisis: After MTV aired scenes of Teen Mom Amber Portwood abusing her baby's father, Gary Shirley, the incident prompted a police investigation. The hate mail Amber received, including death threats, inspired her to leave Leah with Gary for two weeks. Now that Leah is back with her mother, the question remains: Has Amber really changed? Plus, a look into Amber's tragic past. And, exclusive photos of baby Bentley's 2nd birthday party.
Article continues below advertisement
Kendra Wilkinson-Baskett: The reality star and former Girl Next Door says she doesn't need to pose for Playboy to prove she's still hot after having a baby. Read about what made Kendra consider doing the centerfold and why she ultimately turned it down. Plus, three hot celebrity moms who have posed.
Audrina Patridge: She got kicked off of Dancing With the Stars, but former Hills star Audrina already has a new reality show in the works.
Real Life: Is Jennifer Mee, the girl who became famous for her bout of near-constant hiccups in 2007, guilty of murder? Read more about her recent arrest and what led up to it.
Battle of the Star Diets: Jennifer Lopez keeps off the pounds with exercise and a healthy meal delivery service. Jen Aniston stays fit doing Yoga and eating recipes from her personal chefs Jewels and Jill Elmore. This week, two OK! staffers put the star diets to the test.
Plus: Why Lindsay Lohan might see more career repercussions for her behavior than Charlie Sheen does; Mariah Carey finally confirms her pregnancy; Justin Bieber hangs out with NBA cheerleaders; Dumped on The Bachelor, Jenni Croft recently got married in paradise and OK! has all the details; E! News host Giuliana Rancic dishes on the new orange dress trend that has stars buzzing; Celebrity nutritionist Keri Glassman weighs in on Dancing With the Stars' Cheryl Burke's daily diet; Lloyd Boston, host of HGTV's Closet Cases, recommends the trendiest sweater styles for fall; Christina Aguilera talks about her two new fragrances; and, just in time for the CMA Awards, OK! gets tips from the stars about the coolest hangout spots in Nashville.