NEWS
'Teen Mom' Finale Clip: Catelynn Consoles Tyler After His Dad, Butch, Is Taken Back to Prison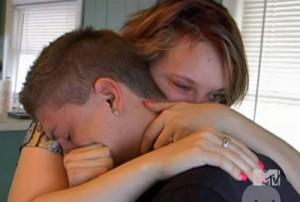 Everyone is pulling for Catelynn Lowell and Tyler Baltierra as they are working hard to stay on track, finish school and maintain a strong relationship. But unfortunately, their tumultuous family life puts an extra strain on their daily lives, and on Tuesday's finale, it also seemed to bring the young loves together.
After Catelynn and Tyler had opened up their home as a place for his dad, Butch, to stay while he was on parole, Butch failed a drug test and was sent back to prison.
Article continues below advertisement
Everything seemed to be going well, until the failed drug test, which shocked Tyler.
And Catelynn's mom, April, did not help matters with her delivery of the upsetting news.
"Well, your dad went to prison, dude," she said as she walked in the door.
While fans of the hit MTV reality show may not be surprised by Butch's incarceration, it was still a heavy blow for Tyler.
But Catelynn stood strong by her man and consoled him. We know these two will persevere as usual.
What did you think of last night's finale? Catch the clip below, and sound off in the comments.