NEWS
'Teen Mom' Jenelle Evans Caught on Tape Brutally Attacking Girl; Investigation Underway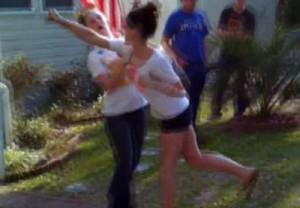 Jenelle Evans is never going to regain custody of her son Jace if she keeps acting out. The Teen Mom brutally attacked another girl in North Carolina earlier this week, and the catfight was caught on tape. Now, the D.A. is reportedly investigating Jenelle's angry fight.The 19-year-old began to spew insults at a woman named Britany. When a group of her friends began to egg her on for a smackdown — one pal even pushing her into the victim — Jenelle obliged and launched into a vicious attack where she repeatedly punches the young woman in the face with a closed fist, as her friends root her on.
Article continues below advertisement
OK! EXCLUSIVE: TEEN MOM JENELLE EVAN'S SHOCKER — JACE HAS A BROTHER!
TMZ has obtained a video of the fight which can be watched HERE. **WARNING: The content is quite brutal and violent** There comes a point where it looks like Britany can no longer defend herself, but Jenelle continues to pummel her into the ground. Britany begins to bleed from her face, and one of Jenelle's friends finally pulls her off. She keeps insulting the battered Britany until the tape ends. Reportedly Jenelle wanted to fight Britany because of a controversy surrounding Jenelle's boyfriend, Kieffer Delp, 20.