NEWS
'Teen Mom' Stars Talk About the Final Season & Co-Star Amber Portwood: "We Just Want Her Happy"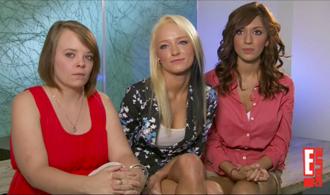 Maci Bookout, Catelynn Lowell and Farrah Abraham are getting ready to say goodbye as the fourth and final season of Teen Mom is set to premiere on June 12. But although they're sad to leave the show behind, the girls are ready to live their lives away from the cameras. (Well, some of them!)
"We're excited to see the last season of us and how much we've grown," Farrah tells E! News in an exclusive video interview. "There's a lot of stuff we've gone through, so I think it will help other teens know that this is a hard situation."
Article continues below advertisement
"And the kids are kids now!" she adds. "Like, they're not toddlers, they're not babies... they're talking, they're wild. They're like their own little personality."
As for how the girls feel about their troubled co-star Amber Portwood, who has been dealing with a lot of personal issues incuding a stint in rehab and jail time, Maci, Catelynn and Farrah support her 100 percent and just want her to get better.
Article continues below advertisement
"I definitely keep in contact with her. I just wish her the best," Catelynn says. "Hopefully she gets done whatever she needs to get done. People need to support her and stop bashing her all the time. People just really need to forget the past and just be there for her and try to support her so she can just to what she needs to do. People are very mean to her," Catelynn adds.
"Being in this whole experience together for four years, we all have this special bond, so we want nothing but the best for Amber," Maci says, "and we just want her happy."