NEWS
'Teen Mom' Series Finale: Gary Shirley to Amber Portwood: "I Will Never Let Leah See You Ever Again!"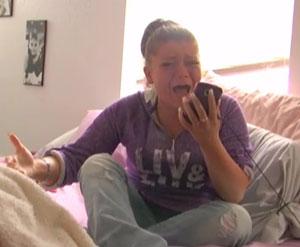 Article continues below advertisement
Amber Portwood
Before Amber begins her out patient treatment, the troubled Teen Mom decides it's time to dive back into the dating world with new guy, Mike. During their romantic Italian dinner, she opens up to him about her dark past. Having daughter Leah at such a young age didn't ruin her life, but Amber admits it certainly changed things completely. And who can forget about those domestic violence charges? Despite the heavy-handed news, Mike isn't scared off and the two cement their relationship with a kiss… or six.
Leah's third birthday quickly approaches and while the co-parents made plans to postpone the festivities until the no-contact order is dismissed, Gary Shirley's jealousy over Amber's 'boy toy' gets the best of him. He goes forward with a birthday party at his house and sends Amber photos to fill her in on the change of plans. Upset, she calls her ex-boyfriend to figure out why she's been excluded, only to learn that it's all because she has ditched Gary for her new boyfriend.
Article continues below advertisement
"What does that have to do with my daughter's birthday?" she screams. Gary refuses to let Amber see her daughter, warning, "You better be prepared for a custody battle."
She doesn't care what it takes; she's prepared to get Leah back.
OK! GALLERY: ULTIMATE TEEN MOM GALLERY: MACI BOOKOUT, LEAH MESSER AND MORE!
"CPS is in my favor, sweetheart," her ex-boyfriend reminds her.
"Don't put your own personal problems in front of your child," Amber says. "She's not a tool, Gary. She's a human being!" Wait a second… Has Amber finally grown up?
As the conversation turns into a screaming match, Gary promises, "I will never let her see you f****** ever again."
Viewers watch the Teen Mom experience some trouble breathing as she lays on her side crying over what her life has become. This is perhaps the most vulnerable and afraid we've seen Amber - and it's not easy to watch.
The next day, Gary realizes that he may have gone too far and the two talk it over. Amber agrees to sign over custody, as long as she gets to visitational rights, and the no-contact order is dropped.
Article continues below advertisement
Fans watch as the mother and daughter decorate cupcakes in celebration of the belated birthday. While the tumultuous tale ended on a happy note, it's clear things don't stay that way once the camera's stopped rolling.
OK! NEWS: TEEN MOM AMBER PORTWOOD CALLS TEEN MOM 2 STAR JENELLE EVANS "EMBARRASSING"
Farrah Abraham
It's been a big help having Sophia stay with her grandparents in Iowa while Farrah works on getting her bachelor's degree in the Sunshine State. She's taking bartending classes, making friends with neighbor, Alethia, and getting her grades up!
"Is this what it feels like to be single and not a mom?" Farrah exclaims. "I felt like I had no responsibilities!"
With all that down time, the Teen Mom admits she's been feeling quite lonely without her daughter around. The daily responsibilities of being a mom left her with no time to dwell on the passing of Sophia's father, Derek Underwood. Luckily, her friends and classmates have been there to help keep her busy enjoying the teenage dream she never had a chance of living.
Article continues below advertisement
As the semester comes to an end, Farrah learns her hard work has paid off. She's walking away with straight A's!
OK! GALLERY: ULTIMATE TEEN MOM PHOTO GALLERY: MACI BOOKOUT, LEAH MESSER & MORE!
After celebrating the good news with her Alethia, Farrah decides it's time for her to bring Sophia back home... to Florida.
She returns to Iowa and this mother-daughter renuion is the happiest Teen Mom fans have ever seen Farrah in a while. After the two share hugs and kisses, Farrah meets up with his sister for lunch only to learn…
Surprise, she's engaged!
Farrah shares in the excitement before memories of Derek's proposal come to mind. When she was 16, he proposed, but Farrah turned him down because they were just too young to get married at the time. After the break-up, their relationship was a rollercoaster of ups-and-downs until his untimely death.
After wasting her opportunity with Derek, Farrah confesses that she doesn't think she'll ever get married again. However, if some one were to ever ask her again - even if it was a lame proposal - she would say yes.
Article continues below advertisement
As Farrah and Sophia return home to Florida, Teen Mom fans can rest assured the two are ready to take on whatever comes their way.
OK! COVER STORY: TEEN MOM SCANDALS: JENELLE EVANS, MACI BOOKOUT, LEAH MESSER & MORE!
Maci Bookout
Ryan Edwards gets to spend Bentley's third birthday with him this year for the first time – showering him with cake and tons of presents! Maci and Kyle King spend the night at home looking at some of Bentley's baby pictures, but it's not enough for the Teen Mom.
"Nobody loved him like me," she explains. "I went through nine months of being pregnant, 37 hours in the hospital, and pushing him out of my hoo hoo!"
Thankfully, Kyle is there to help. "One day, maybe we can all get along," he says.
However, viewers quickly learn that might not be the case. Ryan meets with his lawyer to try and get 50/50 custody of Bentley and kick Kyle out of the house. The only thing he needs before they can proceed is Bentley's birth certificate...
Article continues below advertisement
Dalis actually stands up for Maci! She explains that there's no reason Maci shouldn't live with Kyle since she and Ryan have their own plans to move in. The hypocrisy!
Maci turns to her parents as well and after some persuading decides she shouldn't keep the birth certificated from Ryan.
He's going to be in her life for at least the next 13 years and she decides it's time they take co-parenting seriously!
Article continues below advertisement
OK! COVER STORY: FROM TEEN MOMS TO TEEN BRIDES! INSIDE DETAILS ON THEIR WEDDINGS!
Catelynn Lowell
Catelynn offers to do some babysitting while her mom deals with recovery and the future of her marriage with Tyler's dad, Butch. While her husband remains in jail after their abusive fight, her mom confesses, "I think I probably should divorce him… My heart tells me other things though." Teen Mom's favorite dad Tyler Baltierra tells her, "Your heart lies though."
While babysitting little brother Nick, it's quite clear that the couple don't have a lot of experience being around kids and Tyler's cursing has MTV pressing the censor button quite frequently through out the episode. In fact, Tyler's temper has taken a turn for the worse and after one of their dogs has an accident inside, things get loud.
Shouting and dragging the dog outside, Tyler shows Teen Mom viewers a side of him they've never seen before. After finding her little brother scared and crying in his room, Catelynn quickly approaches her fiancé to talk about his lashing out. Tyler admits his temper is making him nervous and confesses that when his mom saw him yelling and punishing the dogs earlier, she said, "I'm really glad Carly's not here." Time to make an appointment...
Article continues below advertisement
OK! NEWS: TEEN MOM STARS LEAH MESSER AND JEREMY CALVERYT: INSIDE THEIR SECRET HONEYMOON
During his therapy session, Tyler breaks down. He learns that not having a dad in his life was a huge factor in choosing adoption for his daughter, Carly. If his own father didn't know how to be a parent, how could he?
Tyler admits it's time to cut his father off, but battles with the idea of leaving him to die alone. "I never did anything wrong," he cries, "Why doesn't he love me?"
His therapist suggests that he write a letter to his father, letting all of his emotions out. Tyler agrees and after putting his thoughts onto paper, he sits down with his fiancée to talk about their choice to adopt.
While it's always seemed like the decision was mutual, Catelynn admits that she was afraid that had she not agreed to adoption, Tyler would have left her back in the hospital.
Despite their regrets, Tyler and Catelynn understand that Carly is living a better life and fans watch as the two drive off into the sunset – literally.