NEWS
'Teen Mom' Star Jenelle Evans & Kieffer Delp Hang Out in N.C.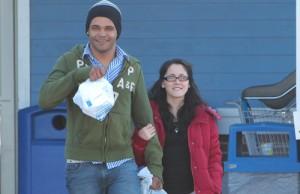 Despite a bit of an angry Twitter rant recently, Teen Mom 2 star Jenelle Evans looked super happy to be out and about with her current boyfriend, Kieffer Delp in their home town in North Carolina on Friday. The twosome hung out near home before heading to a grocery store to pick up a few things.
IN THIS ISSUE OF OK!: THE MEN IN TEEN MOM JENELLE'S LIFE — TROUBLE?
The twosome seem to be sticking together like glue amidst all the controversy — namely, their arrest in October on marijuana charges and Jenelle's fights with her mother over her custody of Jace, and her baby's dad, Andrew Lewis.
Article continues below advertisement