NEWS
Teen Mom Updates: Leah Messer Has a New Man; Baby Leah Goes On Without Amber Portwood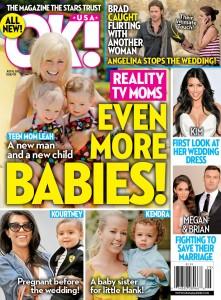 Leah Messer has a new man! The Teen Mom 2 star, who split from Corey Simms in April, has begun dating aspiring race-car driver Tyler Blankenship. "Leah and her mom went to watch him race last weekend," a friend tells OK!. "She said she had an awesome time, but she is trying to keep their relationship under wraps." Tyler and Leah have a lot in common.
Article continues below advertisement
Both hail from West Virginia, both had young marriages that didn't go smoothly and both have children. He adores kids Tyler, who is separated from his wife Kelly, has a young son named Cashton. When he's not racing street stock cars, he is self-employed as a tow truck driver. Although Leah is done filming Teen Mom 2's second season, which has yet to air, the pal notes that if the romance continues, Tyler is likely to appear on future seasons.
In other Teen Mom news, athough Amber Portwood has entered rehab for what could be a months-long treatment program, the life of her daughter, Leah, goes on almost normally. The toddler, 2, has been living with her father, Gary Shirley, for months now and some worry that he's replaced her mother Amber in her heart.
"Leah isn't showing any outward signs of missing her mom," says an insider. "I hate to say it but the baby's life has not changed since Amber left, except the drama quotient has dropped. Leah doesn't notice Amber's gone because Amber barely saw Leah when she was here so there's not that big of a difference."
Article continues below advertisement
The little girl, who is largely being raised by Gary's mother and often calls her 'Mommy,' has also bonded with her father's new girlfriend, Ashley. "One time, Leah called Ashley 'Mommy.' That was sad," says the insider. "She wanted Ashley to hold her and play with her. She wrapped her arms around the girl's legs."
FOR MORE TEEN MOM UPDATES, PICK UP THIS WEEK'S ISSUE OF OK! - ON SALE EVERYWHERE NOW!