NEWS
Television Icon and 'Dallas' Star Larry Hagman Dies at 81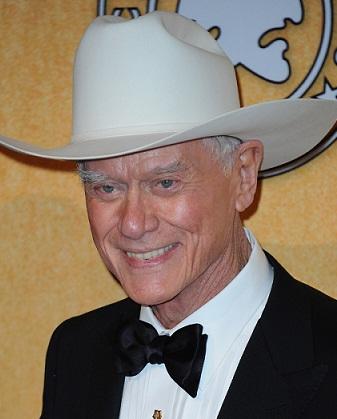 Television icon Larry Hagman passed away Friday afternoon. The actor was best known for his role as J.R. Ewing on both the original and current Dallas, as well as Major Nelson in I Dream of Jeannie. He was 81.
Larry's family issued a statement saying he died from complications of the cancer he battled in recent years. "Larry was back in his beloved Dallas, re-enacting the iconic role he loved most," the statement said. "Larry's family and close friends had joined him in Dallas for the Thanksgiving holiday. When he passed, he was surrounded by loved ones. It was a peaceful passing, just as he had wished for. The family requests privacy at this time."
Article continues below advertisement
OK! NEWS: DALLAS COMEBACK WITH SOLID WITH VIEWERS: PULLED IN 6.9 MILLION
The original Dallas aired from 1978 to 1991. When the series was revived in 2012, Larry was, fittingly, brought on board: his villainous oil tycoon J.R. Ewing is synonymous with the series, and the "Who shot J.R.?" storyline is one of the most famous of all time. At the time of its initial airing, it was the highest-rated television episode in history. Just last year, Entertainment Weekly's Ken Tucker called it the number-one cliffhanger of all time.
Larry also appeared on the daytime soap Edge of Night. More recently, he had a five-episode arch on Nip/Tuck and appeared on Desperate Housewives.
OK! NEWS: DALLAS PREMIERE PREVIEW: THE REBOOTED SERIES STARS PATRICK DUFFY, LARRY HAGMAN AND LINDA GRAY
TNT airs the current version of Dallas. Their statement: "All of us at TNT are deeply saddened at the news of Larry Hagman's passing. He was a wonderful human being and an extremely gifted actor. We will be forever thankful that a whole new generation of people got to know and appreciate Larry through his performance as J.R. Ewing. Our thoughts and prayers are with his family at this very difficult time."
We urge Larry fans to check out the statement from his I Dream of Jeannie co-star Barbara Eden. It can be found on her Facebook page (warning: it might bring tears to your eyes).
Our thoughts are also with Larry's family at this time, as well as his legions of fans.
RELATED NEWS: