NEWS
Teresa Giudice on 'The Celebrity Apprentice': "I Wasn't Involved with the Drama"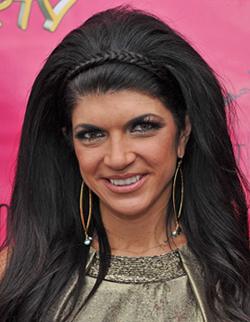 Things are just fabulous for The Real Housewives of New Jersey star Teresa Giudice.
In addition to competing on the new season of Celebrity Apprentice, the New York Times best-selling housewife has also been busy promoting her book, Fabulicious.
OK! caught up with the reality star as she helped celebrate Ferrari-Maserati of Long Island's partnership with Harboring Hearts, a charity that supports patients and families who are fighting heart conditions.
Article continues below advertisement
Contrary to the table-flipping fireball we see on RHONJ, Teresa shared with OK! that she laid low while working for Donald Trump. Co-contestant and new BFF Aubrey O'Day even described Ms. Giudice as a "pussycat," who steered clear of drama between the other girls.
"I wasn't involved in the drama. I got along with Aubrey really well," explained Teresa.
OK! NEWS: CELEBRITY APPRENTICE REVEALS NEW CAST: TERESA GIUDICE, LOU FERRIGNO AND MORE
When asked which cast member she was most excited to work with, Teresa shared, "You know, Arsenio Hall and Lou Ferrigno, I mean, I grew up watching him on television."
She keeps in touch with her former co-workers as well, adding, "I made a lot of lifelong friends." Although Teresa had a great time competing on Celebrity Apprentice, there was some initial apprehension.
"I got asked to do it and I wasn't sure at first," Teresa confided. "I didn't want to leave my children. So that was my biggest concern, but then they got to stay with me on Friday nights, and then I went back and forth. So, that was the best thing."
Article continues below advertisement
Throughout the whole experience, it was the Donald that Teresa was most fond of.
OK! GALLERY: CELEBRITY APPRENTICE CAST PARTIES IN LAS VEGAS PRE-PREMIERE
She gushed to OK!, "There was nothing scary about him! He was amazing."
Teresa could even see him sitting in the Oval Office. "He's an amazing man and I could totally see him being the next president. You know, he's very business-minded. He has a great business mind."
Are you watching the new season of Celebrity Apprentice?