NEWS
Teresa Giudice & Hubby Prepare for Bankruptcy Auction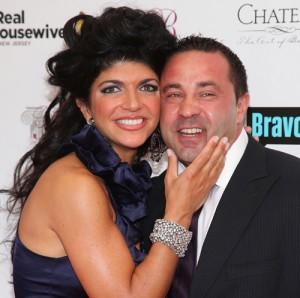 Want to bring a little piece of the Garden State to you? Teresa Giudice and her husband Joe, who filed for bankruptcy last October, are planning to sell their lavish personal belongings in a public auction on Aug. 22 so now you can bring some Real Housewives of New Jersey artifacts to your home.
According to bankruptcy court records, via the New York Post, the parents of four young daughters owe nearly $11 million in various debts.
Article continues below advertisement
In papers filed in Newark Federal Court, Teresa and Joe claim to only make $79,000 a year between the two of them, and are unable to handle the foreclosures and hefty credit card bills, according to PopEater.
The court document, obtained by PopEater, their money issues definitely may change the lavish lifestyle so proudly displayed by the Giudices in Real Housewives of NYC.
The lengthy list of financial woes include:
• The bank has moved to foreclose on their $1.8 million home in Towaco, NJ.
• Banks have taken their Jersey Shore house along with another home in Lincoln Park, NJ.
• Teresa owes $12,000 to a fertility clinic.
• They've defaulted on payments for their Escalade.
• Joe personally owes $5 million to former partners of real estate deals.
A.J. Willner Auctions, the company hosting the sale, lists details on their Web site of exactly what items the Giudices are giving up: a grand piano, two flat-screen televisions, sofas, decorative fireplace accessories, a foosball table, a suit of armor and at least three chandeliers.
Article continues below advertisement
Those items will be going up at auction on Aug. 22 at 12 p.m. at the couple's Towaco, N.J., mansion.
It looks like Teresa may have to cover her spending tracks better as well.
On an episode of The Real Housewives of NJ, Teresa once (proudly) spent $2,000 in a 10-minute shopping spree, but in bankruptcy papers she claims to spend $400 on clothes a month, PopEater reports.
According to the court papers, Joe's monthly income at the stucco and stone company is $3,250 and Teresa earns $3,333 from Bravo. She recently released a cook book, Skinny Italian.
OK! NEWS: REAL HOUSEWIFE TERESA GIUDICE REAL BANKRUPTCY COURT DRAMA