NEWS
Teresea Giudice Tans Away Her Financial Woes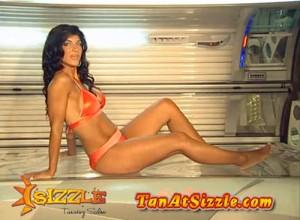 With her family facing bankruptcy, Real Housewives of New Jersey Teresa Giudice knows she needs to do her share to help husband Joe Giudice combat their financial woes. As a result, the mom of four tapped into the Jersey Shore business of — tanning!
To help lower her $11-million debt, Teresa recently starred in a commercial for New Jersey tanning salon chain Sizzle Tans.
Article continues below advertisement
Her tanned bikini body will also appear on billboards around the Garden State!
Teresa continues to claim she knows how to spend within her means.
This morning she sat down and faced the music with the ladies' of The View.
When asked if husband Joe ever faulted her for outrageous spending — thousands of dollars on her daughters' clothing, lavish decor for her home — Teresa responded, "No, not at all… because I always live within my means. Always."
At least she is keeping herself on a budget.