NEWS
Teri Hatcher Reveals "Some Truths" About Beauty & Botox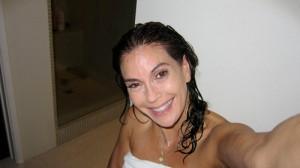 Teri Hatcher decided to take some pictures of her face and post them up on her Facebook to announce she's done with Botox and teach others a beauty lesson!
OK! GALLERY TERI HATCHER MODELS THE LATEST IN PRISON COUTURE
"Out of the bath getting ready for bed. Thought about all those damn critics of my face. Love it or hate it, my face that is, no surgery, no implants, no matter what "they" say," Teri wrote on her Facebook. "Decided I'd shoot myself in to reveal some truths about 'beauty' and hope it makes you all easier on yourself."
Article continues below advertisement
Check out the gallery of photos Teri uploaded below!
OK! NEWS: TERI HATCHER HAS ADVICE FOR CHICS
"This is shot by Matthew Rolston with his wonderful lighting ( and no botox) for the new 7th season DH promos," Teri concludes her photo gallery. "Hope you learned something. You create your own paradise or prison. Being happy inside is all that matters. Find that in whatever way works for you. See something in the mirror you love every day."