NEWS
Eagles Founder Glenn 'Craved Attention' While Bandmate Don Was 'Natural Human Magnet'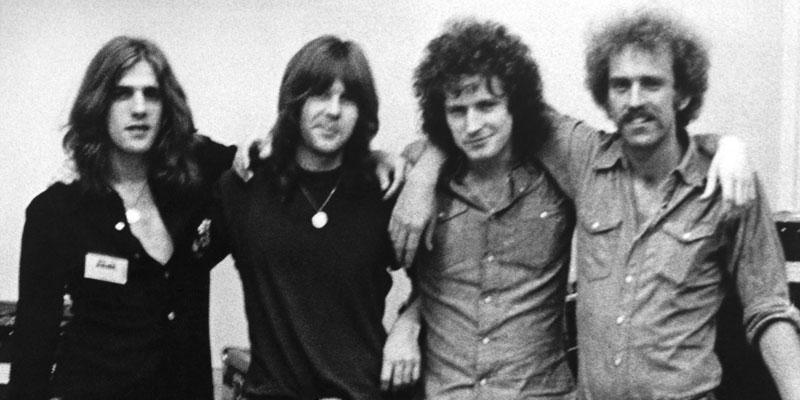 The Eagles will forever be remembered as one of the greatest bands in history. Their lively rock songs redefined the music of the '70s and became the embodiment of the "sex, drugs and rock 'n' roll" lifestyle that eventually led to their own destruction. But according to band biographers and former pals, the power struggles between the founding members of the group also contributed to their sudden implosion.
Article continues below advertisement
Now, REELZ's new docuseries, Breaking the Band: The Eagles, is looking back at the rock stars' glory days.
"There was a point where we could do pretty much anything we wanted, so we did," former bandmate Joe Walsh is heard saying in a throwback interview.
"They used to do two encores, and they had buttons made up called 'the third encore,'" recalls Eagles biographer Marc Eliot in the show teaser.
"It wasn't an uncommon practice for the ratings to go out into the audience to the prettiest girls to come… and party after the show," explains music journalist Lesley-Ann Jones.
Glenn Frey, Don Henley, Bernie Leadon and Randy Meisner were the founding members of the 1971 American rock band. Though they sold millions of albums throughout their career, they hit peak fame in 1976 with their hit song "Hotel California."
"They would walk into this suite that they had already set up, and there would be beautiful girls sitting on the couch, sitting on the windowsills, just a party room!" remembers former Eagles photographer Henry Diltz.
"Don always seemed very relaxed in his skin," adds Jones. "People came to him. He was a natural human magnet, whereas Glenn was more edgy, more itchy, less confident, and seemed to need and crave attention."
"We used to say that Don Henley had extraordinary charisma and that Glenn Frey had 'charisn'tma,'" she concludes.
Breaking the Band: The Eagles airs Sunday, July 15 at 10:00 ET / PT on REELZ.