NEWS
The Fosters Star Sherri Saum Reveals How Her Pregnancy Changed Season Two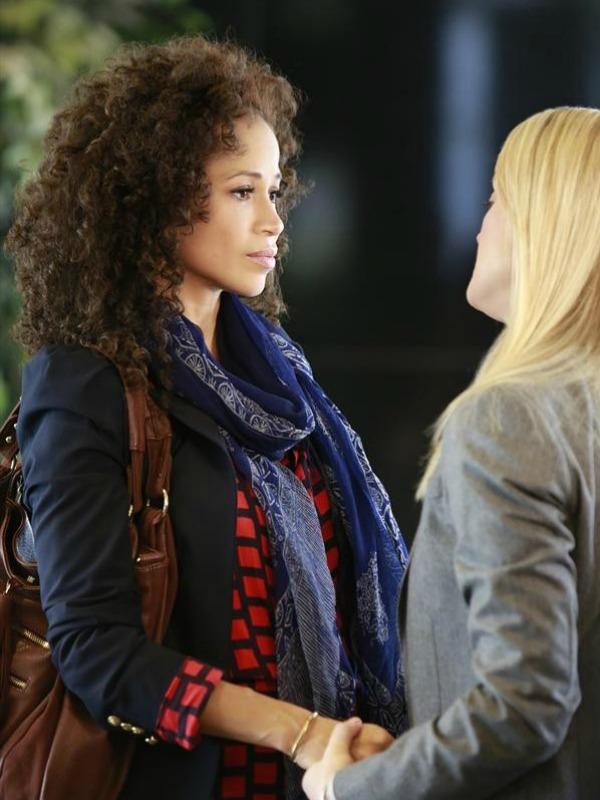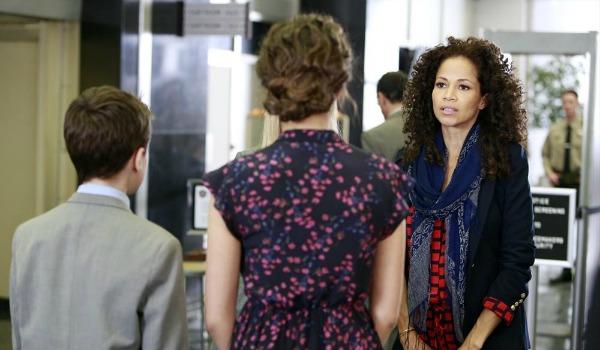 The Fosters is back! The second season of the award-winning ABC Family show starts tonight, and there are loads of cliffhangers and loose ends left from the finale in March that need to be squared away. Star Sherri Saum, who plays Lena, was pregnant in real life (with twins!) and on the show when she spoke to OKMagazine.com over a month ago. Read the new mom's spoilers, and tune in tonight at 9/8c on ABC Family for the summer premiere.
Article continues below advertisement
OK! News: Play along with our Pretty Little Liars scavenger hunt tomorrow night!
OK!: First, how are you feeling? I was just looking at photos from your baby shower. You only have a couple weeks left, right?
Sherri Saum: Yeah. They're quite viable as they are. They're over 5 pounds each, and really healthy. I'm good. So many things can happen in these kind of situations, and the worst that happens is I'm a little out of breath, or a little tired. I'm really lucky.
OK!: Good! When did you film this second season? How did it work with your pregnancy?
SS: We started the second season at the end of February, so I was about three months, four months. I wasn't showing for quite some time. It was only in the last few months that we've had to really scramble to hide me. They did write in the pregnancy, but obviously the timing is not the same so they still had to hide me.
Article continues below advertisement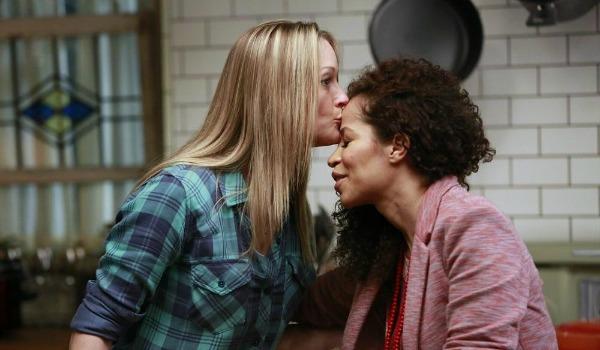 OK!: Will we jump at all ahead in time on the season premiere? Will we see the cliffhangers move forward?
SS: We definitely move in time, but not very much at all. We still drive directly into Callie's paternity and what is going on there. There's nothing that we skip ahead of. We address everything in the cliffhanger, but we do jump far enough along that I am definitely pregnant. Definitely feeling the pregnancy!
Article continues below advertisement
OK! News: Wowza, Kendall Jenner showed a lot of pelvic bone on the red carpet last night! Was her outfit too much?
OK!: How will a new baby shake up the family dynamic this season?
SS: Oh my goodness. Well luckily, as we ended, Stef's feelings about the baby kind of took a turn, and she was so embracing of it and so excited. That's going to help a lot. Also, we have the new wrench of Timothy and his backing out of his deal. It's going to be another one of those struggles the Fosters have gone through, but hopefully, as we've done with everything, we come out stronger.
OK!: You recently tweeted a pic of the kids from the pilot. Now that it's been some time, how have the kids grown?
SS: Gosh. It's one of these wonderful things—when you first meet and you're starting to work together, everyone's on their best behavior. Everyone has just gotten deeper, as a family, together. We really love each other, we give each other advice, we tease each other mercilessly. laughs It's one of those dream jobs where there's not a bad apple in the bunch. We definitely seen each other through personal things, and I think it translates to the show. We have an even stronger connection.
Article continues below advertisement
PHOTOS: See the adorable pics of Prince George's first public tantrum.
OK!: Will you be enlisting any of their help with baby-sitting? You have a whole team of baby-sitters now!
SS: laughs Yeah, well, Teri Polo has threatened to kidnap them, so I told her she's welcome. Everyone's very excited. Maia Mitchell, she can't stop coming over to my belly and talking to the boys. We'll see how excited they are when they're screaming their heads off and they need diaper changes! We'll see where everybody runs off to.
OK!: Can you tell me what it was like to be honored at the GLAAD Media Awards?
SS: Huge honor. Were being honored by the very community we're trying to represent accurately, and with heart. It's a validation that we're doing our jobs right, and that's really huge. It's humbling. Love is love. I didn't prepare this role like, it's a "lesbian role." Lena just loves Stef. There was nothing I had to do, so it's just further proof and further confirmation that we're all the same.
Article continues below advertisement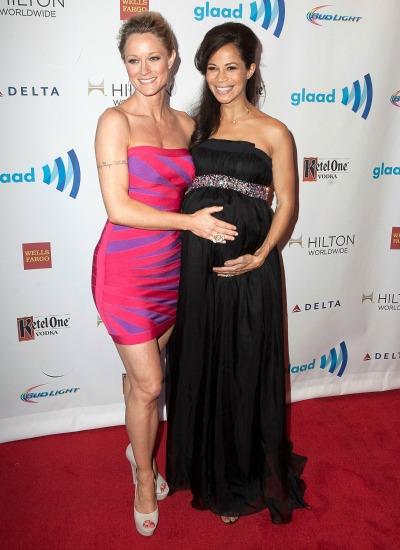 OK!: Do people recognize you on the street, and do they ever open up to you, given the nature of the show?
SS: They absolutely do. I always encourage people through Twitter to come and say hi. It means a lot to me, that they are moved or somehow the show has helped them in their lives. Through Twitter, I've really been able to see just how profoundly this show has touched people. It's amazing. People have really made the leap to come out to their parents, or their friends; just to have a feeling like, "We're just like everybody else and we're getting represented and we can see ourselves on TV." It's an exciting thing.
PHOTOS: Check out how celebrities honored their dads on Father's Day.
OK!: What's a movie you watch every time it's on TV?
SS: I have this really morbid, awesome love for the movie Black Swan. I know! First time I saw it, I was like, Hmmm, that's kind of strange! I love how it's shot, I love Natalie Portman's portrayal. It's so twisted and beautifully done. I know, it's strange. Reaching back further, Jackie Brown. I love that movie! I love the soundtrack, everything.
Do you watch The Fosters? Who is your favorite character? Which storyline do you hope gets cleared up tonight? Tell us in the comments below or tweet us @OKMagazine.