NEWS
The Roots Reveal Concept Behind New Song 'Bittersweet,' Life With Jimmy Fallon, And More!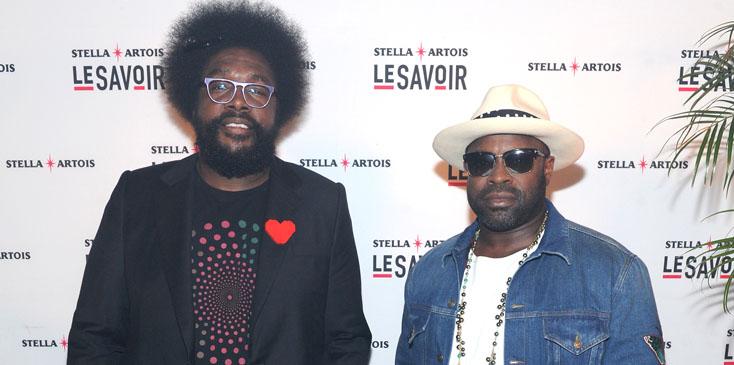 Talk about an unforgettable experience! Hip-hop band The Roots has joined forces with Stella Artois, launching "Le Savoir" in New York City this week. For the opening night of the multi-sensory dinner theater experience, The Roots gave an incredible performance of their original song "Bittersweet," which they produced in collaboration with Stella Artois. The song, which there are two versions of, enhances both the sweet and the bitter flavor notes in the Belgian beer.
Article continues below advertisement
OK! sat down for an exclusive interview with the band's founders, Tariq "Black Thought" Trotter, and Ahmir "Questlove" Thompson, to discuss their collaboration with Stella Artois, their longevity in the Hip-Hop industry, and more.
Questlove spoke about why The Roots teamed up with Stella Artois, and it sounded like it was a no-brainer! He admitted, "Well, when they approached us about a sonic experiment with music that will affect your taste, our curiosity was peaked, because at the time I thought that only sounds could make you see color. So it sounded like a really cool idea to get into."
And it took much more than heading to the studio to create their song "Bittersweet." He revealed they met with Oxford leading experts to take litmus tests and do sound experiments which included patch tests with keyboards and noises.
After that experience, Questlove told OK! "We took all that we learned and started the creative process for the song. It starts with finding the right key, the right keyboard patches, the right sound and percussion and all those things, and we built up this really subtle nuance. We came up with two different versions of "Bittersweet" — one bitter and moodier and one that's more happy and sweeter. The happy one's with our brass section and the bitter one brings the mood out more."
Article continues below advertisement
The Roots have been making music for over two decades, managing not only to stay in the limelight, but also to elevate hip-hop. Black Thought spoke about their longevity, and said, "I think one of the reasons The Roots has remained relevant has very much to do with the fact that on this particular date, you saw this particular show, and for a whole laundry list of reasons — you're never going to see it again."
"Similar to Stella Artois Le Savoir, their legacy is the same in that they're also creating a super memorable experience. So we felt like the brands went hand in hand," he continued.
Meanwhile, The Roots can be seen nightly across the nation as they are the house band on The Tonight Show, and Questlove spoke about the enjoyable experience. "It's been great. It's a really unique situation in terms of the show really allowing us to be us, show our versatility, and allow our fan base to grow. In the beginning I guess I thought it would just be a retirement gig," he admitted. "For some reason, I never thought it would give us an even bigger reach on our fan base. But it's really been incredible."
As for whats fans can look forward to next from The Roots, Black Thought revealed he is acting on an upcoming HBO show premiering at the top of next year. And of course, The Roots Picnic has expanded to New York City after being in Philadelphia for the past nine years, and takes place in October.
What are your thoughts on The Roots' collaboration with Stella Artois? Let us know in the comments section.