NEWS
Is There a Sarah Palin Connection to Giffords Accused Shooter Jared Loughner?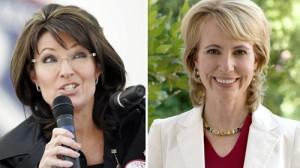 Sarah Palin has been criticized often in media for controversial statements she's made in the past, but now one such disparaged move by the former Vice Presidential candidate is being looked at again, after the terrible Saturday shooting in Tucson, Ariz.
After accused shooter Jared Loughner is said to have shot and killed six people gathered at a Safeway on Saturday, and injured 13, including Congresswoman Gabrielle Giffords, who is now in a medically induced coma, authorities are investigating his background to see where his motivation to do such harm could have come from. One angle that has been discussed is linked to Palin — but is that a fair connection?
Article continues below advertisement
OK! NEWS: GWYNETH PALTROW HAS FAMILY TIES TO CONGRESSWOMAN
In September, Palin used a map with target sights on it to show her "hit list" of 20 political districts that she wanted to go the Republican way. One of those with rifle sights on it was Giffords' district. At the time, she responded to the map, telling MSNBC, "We're on Sarah Palin's 'targeted' list, but the thing is, the way she has it depicted, we're in the crosshairs of a gun sight over our district. When people do that, they've gotta realize that there are consequences to that action."
OK! NEWS: SOPHIA BUSH MOURNS LOSS OF COUSIN IN TUCSON SHOOTING
While putting rifle sights on a map isn't really a great way to prevent some fanatical Palin follower from carrying her words to an extreme, other media outlets are focusing more on Loughner's odd series of YouTube videos, his obsession with words and his alleged frustration over Giffords formerly not answering a question he asked at a previous event.
What do you think of Palin's map? Should she apologize for issuing such an image in the first place, or is the Arizona shooting unrelated?