NEWS
Things are good but different here in Scottsdale.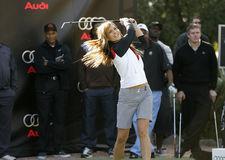 I don't feel as at 'home' as I usually do here because rather than poolside at the Mondrian, on a friend's couch - or anywhere in Scottsdale for that matter, I'm staying in a random part of Phoenix so far out I never had reason to come here in the six years I lived in Arizona. But, beggers can't be choosers. With friends crashing on colleagues floors because poor planning left them without rooms at all, I'm happy to have a bed and room service. I was lucky to wake up this morning and see the sun over the mountains – even if the other view was an amusement park behind a busy highway, and it's cold, but…
Article continues below advertisement
The trip's started out good.
Audi's Hole-in-One event was an intimate and relaxed way to start a busy and adrenaline-charged weekend. In Scottsdale, 40 minutes from my hotel, Audi had the event at a space they've taken over for the week, a house owned by Darryl Hannah's dad! He apparently has a second house down the block and when he came by to check out what Audi had done with the place, from painting to positioning a car on glass above the pool, I'm told he said, "Wow, this would never have happened if my wife was still alive." It looks great! The car was so nice (an Audi R8) and hole so visible that I nearly tempted a swing myself, but didn't because on a good day I'm lucky if I hit as much ball as green so no point in certain embarrassment.
Molly Sims set a precedent and went for three swings – although she still didn't win. On the flip side, she was the best-dressed for golf (so not shocking that she went from the event to the airport to head to NYC for fashion week) AND even though she didn't win the Audi she did order the Audi S5 anyway! Adrien Grenier graciously said he'd donate the car to charity, if he won. He didn't. Jason Biggs came close, but ultimately the winner was athlete Ronnie Lott. Ronnie and Jason were within two inches of each other so they announced them both as winners – but neither got the car, because there were no hole-in-ones. They won lessons.
Later that night I went to Matt Leinart's Welcome to AZ party at Olive and Ivy. He was joined by his friend Nick Lachey and Nick's TV writer friend who I'd met in Puerto Rico. At the time it was the weekend before the writer's strike and writer friend told me he was going to walk with a blank picket because, 'I'm not supposed to write.' He said he's still walking with a blank picket.