NEWS
The Three 'Bachelor' Dates We Most Want to Go On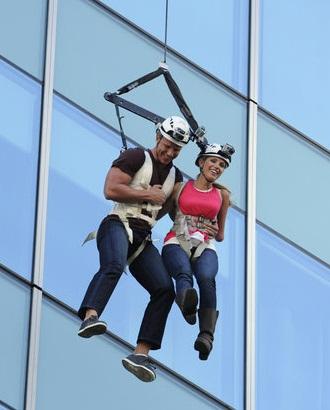 What if Sean Lowe and his potential wives went on real-people dates on The Bachelor? It's a little easier to bond after jumping off the roof of a building to an awaiting champagne toast (like he did with Sarah) than over an embarrassingly large salad at the Cheesecake Factory (which happens to be how my current romance started). But alas, fantasy dating makes for better TV. If we here at OK! could participate in any of the extreme dating events showcased on The Bachelor so far this season, these would be the ones we'd pick:
Article continues below advertisement
1) Sean and Leslie H.'s Pretty Woman Date
Sigh. Am I shallow for listing this first? I haven't even decided if this list is in any particular order, so don't judge me. I was in Beverly Hills once. I got the best eyebrow wax of my life at Anastasia, bought a hairbrush at a boutique with lots of random, pretty things, and could barely afford food until my next payday. It was worth it, but it would have been better if I was gifted a new dress, purse and shoes. And being loaned an insanely expensive diamond necklace wouldn't hurt either. Things didn't work out for Sean and Leslie H., but she got to keep the diamond earrings he gave her before the date, and she'll definitely use those again. Can't say the same for Selma and her hardhat.
2) Sean and AshLee's Six Flags Date
Every day should be like this. Nice weather, no lines, and doing something good for someone else. Sean and AshLee's date was all kinds of awesome, and the private concert at the end made me miss perfect summer nights (which is pretty much every summer night, in my opinion) like you would not believe.
3) Sean and Lesley M.'s Guinness Book of World Records Museum Date
I like stuff like this. At least, I like stuff like this a lot more than I like roller derby. Mosey around a museum and secure a place in history? Sounds like a fine afternoon. Sean and Lesley M. finished things off with dinner on the roof of the historic Roosevelt Hotel, a place Clara Bow, Marilyn Monroe and Elizabeth Taylor used to hang out. Good enough for them, good enough for us!
Which of the Bachelor dates would you die to go on? Let us know @OKMagazine!