NEWS
T.I. To Do 1 Year of T.I.M.E.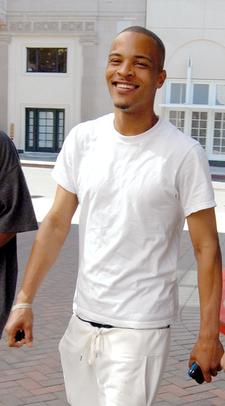 T.I. has been sentenced to one year and one day in jail.
The Paper Trail rapper could have been given up to ten years for trying to buy unregistered machine guns and silencers in 2007.
But he struck a plea deal, agreeing to complete 1,000 hours of community service before sentencing, pay a $100,000 fine, then do another 500 hours of community service after his release.
As part of his community service, he made appearances to talk to school kids about violence, and appeared in his MTV show, T.I's Road To Redemption.
Article continues below advertisement
That extra day, in addition to the year, is believed to have been added to stop him having to serve his full term: if he had been sentenced to less than a year, he would automatically have been forced to complete the entire term.
But this way his spell inside can be reduced for good behaviour.
"Today I would like to say thank you to some, and apologize to all," the rapper said, according to E! Online.
The site reports that he has to turn himself into prison within the next 30 to 60 days, but is not expected do so before May 19.
T.I recently told OK! that he doesn't think his career is going to have to be put on hold altoghether while he's in prison.
"I'm still going to be able to make things happen," he said. "From where I am I'll still be able to pull strings, call shots, put things in order that need to be put in order for his success to bring itself forth."