NEWS
Tiffany Amber Thiessen Delays Vegetarian Ways for Baby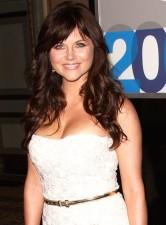 Most parents would sacrifice anything for their children, which is exactly what mom-to-be Tiffani Amber Thiessen has decided to do for her baby on-the-way as the White Collar actress tells OK! that she is putting her vegetarian days on hold.
"Sadly I was a vegetarian for so many years and I've been craving meat, which I hate to say because I'm such a huge supporter of not doing that," Tiffany gushes to OK! on Friday at the USA Network and Vanity Fair Character Approved Party.
Article continues below advertisement
Expecting her firs child in May with husband Brady Smith, Tiffani knows that what the baby wants, the baby gets.
TIFFANI THIESSEN: KIDS, BUT NO '90210'
"I feel like I guess this little one is wanting a lot of red meat," Tifanni gushes in NYC.
And while the former Saved by the Bell star says, "I feel good, I feel big, but I feel good," she is still trying to keep up with her fitness regimen.
"I'm doing a lot of yoga, I'm doing a lot of hiking and a lot of weight training," the 35-year-old reveals to OK!, "I live in LA, so that's actually one thing I can still do which is really nice and I love to take my dogs out."