NEWS
Tiffany Trump: Future Fashion Designer?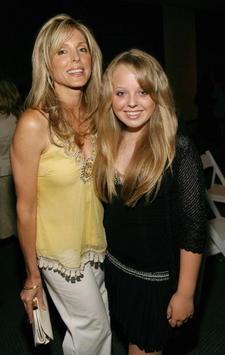 Is Donald Trump's daughter Tiffany an apprentice fashion designer? Her proud mom Marla Maples revealed to OK! Tiffany will more likely be found on Project Runway instead of her father's The Apprentice someday.
"She loves designing," Marla tells OK! at the Fulcage/Single Mom Foundation Charity event. "She's always been playing with fabrics and putting things together since she was 3 years old. She's really talking about that. She said, 'Mommy, we have to decide which fashion school.' I'm like, 'Thank you for making it easier! If you're clear about that, we'll do it.'"
Article continues below advertisement
The actress foresees great things for her 14-year-old daughter, noting that she may be "the next Heidi Klum hosting one of those shows."
Tiffany may want to get some pointers from Nicolas Cage's son Weston, a co-founder of the Fulcage clothing line the event was held for. The budding comic book artist launched the skull and butterfly T-shirt line with his mom Christina Fulton — the proceeds of which will go toward her Single Mom Foundation.
"A lot of love went into every stitch," Christina tells OK! of the dual-gender collection. "All the fabric is absolutely beautiful. I have hoodies and sweats and dresses, and the designs will never go out of style."
Christina says she and Weston "come up with the ideas together. We collaborate as a team. We go back and forth on what feels ahead of the game but still within in the trend."
Although she and Nic split years ago, Christina has no hard feelings for her ex- beau, now married to Alice Kim, mother of their son Kal-El, 2.
"The Fulton Cage family sticks together. We're glued to the hip," Christina says.
Meanwhile, Weston, who also wrote a best-selling comic book, Voodoo Child, with his dad, tells OK! where his inspiration came from.
"I'm very much into skulls and mystic symbols. I find ways to entwine it in her clothing line. I'm a pretty dark guy, I guess."
By Carole Glines