NEWS
'Tiger Doesn't Have Separate Rules,' Terrell Owens Says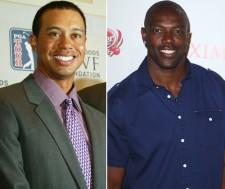 Athletes are out in full force this week, and that means one thing: It's time for the Tiger Woods question!
I caught up with current and former professional basketball and football players, including Terrell Owens, Reggie Miller, Tracy McGrady, Charles Oakley, Anthony Mason, Earl Monroe and Ahmad Rashad.
While they give the overall impression that it's an open secret that athletes cheat, Terrell takes a harsher tone, taking Tiger to task for saying, "I convinced myself that normal rules didn't apply… I felt that I had worked hard my entire life and deserved to enjoy all the temptations around me. I felt I was entitled."
Article continues below advertisement
The deal: Tiger, 34, who wed Elin in 2004, is the father of daughter Sam, 2, and son Charlie, 1. After a car crash in front of his Orlando-area home on Nov. 27, he admitted to being unfaithful and countless women stepped forward claiming to have enjoyed scandalous trysts. In January, he went to rehab. He publicly apologized for his behavior in a 15-minute press conference attended by his mother — but not his wife — on Feb. 19.
So what should Tiger do now?
"I think that's something he has to work out with his wife," Buffalo Bills wide receiver Terrell Owens says during Cosmopolitan's Fun Fearless Males event held Monday at NYC's Mandarin Oriental. "When you're in the limelight such as big stars themselves, you have to know how to conduct yourself and… just because you're a big star, it doesn't mean you have separate rules."
Article continues below advertisement
Hm, how should he conduct himself?
"Well, like a married man," Terrell scoffs. "Obviously, he's got to be faithful, and obviously he's a father as well."
Reggie Miller and others talk Tiger during the Winning Time: Reggie Miller vs. New York Knicks premiere held Tuesday at NYC's Ziegfeld Theatre.
Of Tiger's decision to make a public apology, the retired basketball player tells me, "I think he did the right thing. He came out, and now he's in therapy. Godspeed to him."
New York Knicks shooting guard Tracy McGrady tells me, "I think people are blowing it out of proportion. It's happened before. This is not the first time this has happened. I mean, it's a big deal, but move on. People are making too much out of it."
What advice would he give Tiger at this time?
"I'd tell him to glue his family back together and never mind what everybody else is saying," he tells me.
Retired basketball player Charles Oakley says, "Tiger has to answer his own questions. He made his own bed; he's gotta sleep in it. I have no advice. My thing is, whatever he does, take his time. Don't rush back to golf. He's got to live life. Life's more important than trying to please two or three people. It is what it is. President Clinton got in trouble before, so he's got a chance to get back on top, and he will be back on top."
Article continues below advertisement
Charles tells me athletes have the same responsibility to be good role models as any adult.
"Everybody's a role model who is someone," he says. "You're a role model. What you do is special to someone. There's a lot of people that get caught different ways, and things happen, like criminals, drug use. Stuff is going to happen. It's just how it happened."
Retired basketball player Anthony Mason says, "I've never watched him to be a role model. I've never watched him to be a great husband. I watch him because he plays a great game of golf."
What does former basketball player Earl Monroe think of Tiger these days?
"Great golfer," he says.
Former football player Ahmad Rashad says, "I don't even know."
What should Tiger do?
Veteran publicist and Winning Time director-producer Dan Klores tells me, "Go back and play."
Catch Winning Time: Reggie Miller vs. The New York Knicks on ESPN on March 14.