NEWS
Tiger: Not Out of the Woods Yet, Payouts on the Way?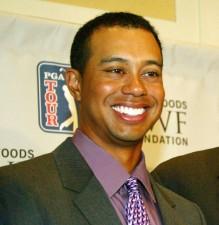 According to sources cited by The Chicago Sun-Times, Tiger Woods' wife Elin Nordegren is being paid, immediately into her personal account, a seven-figure amount to stay with her husband. Rachel Uchitel may also reportedly be getting paid according to other sources, cited by TMZ, who say Tiger and Rachel spoke last night and that could explain why Rachel's lawyer, Gloria Allfred, canceled their news conference today.
Article continues below advertisement
The Sun-Times source insists, "Tiger still believes stonewalling the press on this is the best approach."
The source also said that Elin, the mother of Tiger's two children, has demanded and is receiving a complete rewrite of the couple's prenuptial agreement. The new agreement would make the incentives for her to remain married to Tiger even greater.
Currently, the couple reportedly needed to stay married for 10 years in order for Elin to receive a a settlement of $20 million. The source said the time has now been shortened and the payout has increased "substantially."
In addition, the source said Tiger and Elin are going through intense marriage counseling sessions at their house with a counselor several times a day.
TMZ sources say Rachel was in touch with Tiger and his reps both before the car accident and last night, which could explain the news conference cancellation made by her lawyer.
When E! News tried to contact Gloria she said, "I have no comment on Tiger Woods or my client," she said.
TMZ said reports suggest there was some type of deal made between Rachel and Tiger, but as of last night, no financial overture had been made.
But TMZ also says that Rachel, Tiger and his reps were aware of Rachel's original plan to lie about her relationship with Tiger.