NEWS
Tiger Woods' Caddy Discusses the Golfer's "Problem"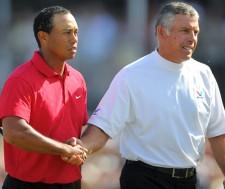 One voice noticeably absent in the melee surrounding Tiger Woods and his alleged affairs has been that of his caddy, Steve Williams — until now. The New Zealand native opened up to his country's Sunday News, saying the golf icon had admitted to him that he had "a problem," telling the paper, "My head is in a spin right now, mate."
Steve broke his silence after the media's continual questions over whether he'd remain as Tiger's caddy and whether he was party to Tiger's alleged affairs. One article by ESPN The Magazine's Rick Reilly called for Tiger to "clean house" and fire those who work for him if he wants to save his marriage to Elin Nordegren, something Steve seems to take issue with.
Article continues below advertisement
"The media has made it very difficult for my family. There is no question about it," he tells the Sunday News. "Obviously, I understand Tiger has got a problem. And we Woods and Williams discussed that."
He says he had no knowledge of any of the women while they were supposedly involved with Tiger, although he does acknowledge the existence of "indiscretions."
"What people fail to realize is I just work for Tiger Woods," he said. "I live in New Zealand, I travel to and from New Zealand to caddie for Tiger Woods. I am not with him 24/7. Whilst I am a very good friend of his... I don't know what he does off the course. Some nights we go to dinner. His indiscretions have probably been when he wasn't playing.
"When he is not competing, I am back in New Zealand. I have no knowledge of what he is doing.
"Yes, I talk to him on the phone, ask him how his practice is going, how he is hitting the ball, how his family is, but I don't know what he is doing, just like he doesn't know what I am doing."
He again adds in the interview that he was in the dark about any alleged affairs, saying, ""I am a straight-up sort of person. I tell it like it is."