NEWS
Tiger Woods Following Spiritual Track on Golf Course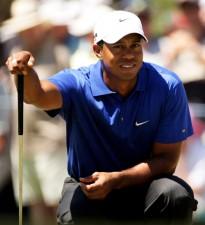 Tiger Woods is trying to stay on the straight and narrow, with his morals now "intact." According to PopEater, the golf pro has started reading Buddhist prayers each day on his BlackBerry, while practicing for the Masters in Augusta, Ga.
"He is totally committed to making himself a better man, and if reading prayers on his BlackBerry every day helps, then good for him," a friend of Tiger told PopEater.
Article continues below advertisement
OK! NEWS: JOSLYN JAMES RESPONDS TO TIGER'S PRESS CONFERENCE
Tiger, who practices Buddhism, reportedly ordered a private room at the Masters, where he can meditate every day.
"He is making every effort to make sure temptation does not make him stray again. The meditation room and BlackBerry prayers are just the tip of the iceberg," an insider told PopEater.
Tiger held a press conference from Augusta National on Monday, answering media questions for the first time since his alleged indiscretions.
He confirmed that wife Elin Nordegren will not be traveling to Georgia to watch his golf comeback.