NEWS
Tiger Woods Ignores Half Brother's Plea For Help?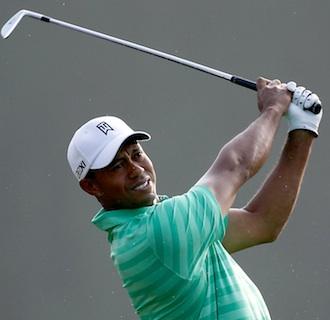 Tiger Woods apparently has not spoken to three of his half siblings since their father, Earl Woods, passed away six years ago.
OK! NEWS: ELIN NORDEGREN, TIGER WOODS' EX-WIFE, KNOCKS DOWN HER MANSION
Tiger's two brothers, Earl Jr. and Kevin, and sister Royce, are 20, 18 and 17 years older than the golfer, respectively. According to ESPN, prior to their dad's passing, the siblings had a relationship with Tiger. For instance, when Tiger was a student at Stanford, Royce cooked and did his laundry. In return, he bought her a house.
Article continues below advertisement
Well, Kevin is unable to work now (he was diagnosed with multiple sclerosis in 2009), can't afford a caregiver and may lose his home, yet Tiger doesn't return calls. Earl Jr. explained, "I leave messages. I leave updates on Kevin, but for whatever reason I don't get a response.... Kevin loves Tiger. A call from Tiger would really pump Kevin up. When he doesn't call, it just makes him feel worse."
Although Tiger's been incredibly generous and benevolent with his Tiger Woods Foundation, his half brother sits in his wheelchair in front of the TV to watch him play golf.
OK! NEWS: RACHEL UCHITEL TWEETS PREGNANCY NEWS
Earl Jr. told ESPN, "We haven't asked Tiger for a dime. Not even tickets to a tournament. But Kevin's losing his home. He needs a caregiver and he can't have a caregiver and keep his home at the same time. And we can't do that, we don't have the means.... Nobody's asking for money here, but a caregiver really would be nice for Kevin. It would make Kevin comfortable. He wouldn't have to leave his house.... But we'd at least like to be able to find out how Tiger is, to find out if he's okay, and to let him know if we're okay."
A spokesperson for Tiger indicated that he's preparing for the Masters and wouldn't be speaking about his family.