NEWS
Tiger Woods' Oldest Mistress Vigorously Attempted to Conceive his Child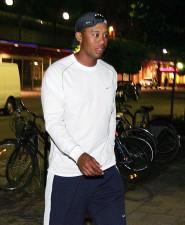 Dec. 19 2009, Published 12:11 p.m. ET
View all comments
Among almost twenty alleged mistresses who have come forward claiming to have had secret relationships with Tiger Woods thus far, Radar Online confirms that the oldest of the bunch, Theresa Rogers, did indeed try to have the former golf champion's child during their time together.
While the forty eight-year-old woman has already hired celebrity lawyer Gloria Allred, also linked to Tiger's other mistress Rachel Uchitel, and has attempted to receive a pay out over the affair, sources tell Radar Online that all Rogers desperately wanted to have Tiger's baby and took action to get her wish without his approval.
Article continues below advertisement
And after a married Theresa did get pregnant while cheating with both Tiger Woods and a Serbian basketball pro,  having a baby girl around five years ago, a close friend speaks exclusively to Radar Online claiming that the child could possibly be Tiger's.
With no DNA testing ever done, the source reveals to Radar Online that, "You just never know because she did not have any kids with her third husband and her final husband Wayne Rogers was in his late sixties when they married," although the child appears Caucasian.
The same friend to Theresa also explains her lack of surprise to finding out about the scandalous, originally covert affair due to Rogers' thirst for cash.
"I wasn't shocked at all when I found out she was hooking up with Tiger. Theresa was always the type of woman who was on the look-out for an ultra wealthy man who could look after her," the friend explains to Radar Online, "… I'm sure she wanted to get with Tiger Woods because of both who he is and how much money he had."
Article continues below advertisement
Even the difference in age didn't shock Rogers' pal who tells Radar Online that her buddy stayed super fit and even admits that, "…she had at least two breast reduction surgeries because she wanted her figure to be totally perfect and she was super conscious about what she ate too."
Regardless of maintaining a sexy body at almost fifty, the former auto-show model, "was quite insecure and hated the thought that one day she would never have any money," the source opens up to Radar Online noting that the entire affair may have been money-driven.
Involved with the golfer for five years, starting even before his marriage to Elin Nordegren, the money conscious mistress herself was married to Wayne Rogers, her fourth attempt down the aisle, while she began being intimate with Woods, Radar Online reports.