NEWS
Tiger Woods Sustains Injuries from Spat with Wife, not Car Collision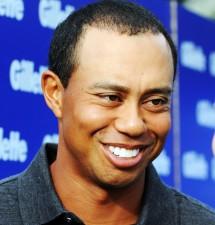 After pro golfer Tiger Woods accidentally struck a tree and fire hydrant outside of his Windermere, Fla. home on Friday morning, a source at TMZ reports that the entire mishap may have been caused by an argument with his 29-year-old wife, Elin Nordegren.
According to a TMZ source, Nordegren and Woods had been fighting prior to the Escalade collision, days after rumors surfaced in the National Enquirer of an affair between Tiger, 33, and the alleged Rachel Uchitel who claims that the entire story is bogus.
Article continues below advertisement
Thankfully the only injuries Tiger sustained were scratches to his face, but TMZ reports that the record-setting golf champion told a source that his wounds were inflicted by his wife, not the actual car accident. According to the source, Woods explained how he ran to his car after a frenzied argument with Nordegren where she struck his face, but she followed him to the SUV with a golf club, which she then used to strike the car repeatedly.
Although the TMZ source also divulges that Tiger, who has two children with Elin, may have been on, "prescription pain medication for an injury," he claims being distracted as a reason for smashing into the tree.
And after the Windermere Police Department found no blood on the steering wheel of the Cadillac affirming that Woods' injuries may have indeed come from his wife, Elin apparently told the Florida Highway Patrol a different story as reported by a TMZ source, leaving out any mention of a golf club.
Tiger is scheduled to make a statement to the Florida Highway Patrol this weekend to clear up the matter.