NEWS
Tila Tequila Bares Her Bosoms for Charity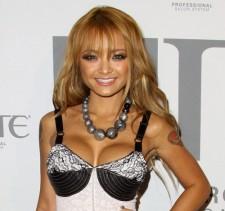 Tila Tequila has bared her bosoms this month in support of Keep A Breast Foundation's online auction of painted plaster breast casts. The one-of-a-kind celebrity casts combine sculpture, philanthropy and symbolic artistry to raise awareness about breast cancer detection and prevention.
The bidding for Tila's breast cast reached $44,500 over the span of 12 hours and the auction doesn't end until Nov. 6 at www.keep-a-breast.org. Other casts featured in the auction are hosts of E! Entertainment's That Morning Show and Cristal Camden of The Girls Next Door.
Article continues below advertisement
"I am so excited to be able to work with Keep A Breast Foundation!," Tila wrote on her blog yesterday. "It's a great charity that I work with that help raises money for Breast Cancer Awareness."
Tila helped to up the auction by making promises of a personal phone call and kiss for the winner and that she would donate up to $10,000 for people to tweet about the Keep A Breast Foundation and the auction.
"Wow! I just checked and now my boobies are at $44,500.00!!," Tila tweeted. "Incredible!!! I'm gonna cry of joy! xox."
All of the breast casts were painted by artists Mike Maxwell, Caia Koopman, Carly Ealey, Brant Sandor and Randy Janson and will benefit the foundation's mission to raise awareness across the country about breast cancer prevention and early detection.