NEWS
Tila Tequila Finds Herself in the Middle of Casey Johnson's Burglary Scandal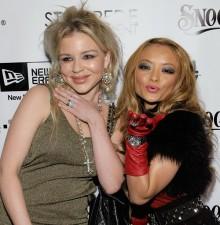 When Tila Tequila announced her engagement to Casey Johnson, she didn't just get a fiancée — in the wake of the Johnson & Johnson heiress' death, she's also taken on some of her legal troubles. The LAPD obtained search warrants against the Casey as well as Tila in connection to the late socialite's arrest in late 2009 for grand theft.
TMZ reports that the warrants were executed on Dec. 11, three weeks before Casey was found dead in her reportedly vermin-riddled home.
Article continues below advertisement
Casey's ex-girlfriend, Jasmine Lennard, claimed the heiress stole clothing and jewelry from her, prompting her arrest. Police then searched both Casey and Tequila's homes, looking for things like "a Louis Vuitton gold envelope clutch, 'Trashy Lingerie' black and cream, Bright pink dress, sparkly gold 'Kitson' dress, modeling photographs and portfolio books, brown antique mink fur, single crystal earring, ring with pink stone and two clear stones on each side, and a white Herve Leger dress."
According to the police documents, they did see a pink purse at Casey's house that matched one of the descriptions, but Casey wouldn't hand it over until the police obtained warrants. TMZ says the police found a photo and a ring at Tila's house, and two blouses and two dresses at Casey's.
Jasmine also called the cops two days before the warrants were issued to inform them that she'd seen Casey wearing her gold dress on the red carpet — and there are indeed, pictures of Casey wearing a slightly baggy gold dress with Tila next to her at an event.
Besides her stolen items, Jasmine is steamed up at Tila for another reason: Her lawyeres have issued a cease and desist letter to the company that hosts Tila's blog, after the dimunitive internet celebrity posted a profanity-filled blog post about Jasmine.
Tila claimed in her post this morning that Jasmine ruined the couple's lives with her claims of burglary. In the rant, she calls Jasmine a "prostitute," "b-tch," "c-nt," "drug addict," "con artist," and more. TMZ reports that Jasmine's lawyers are threatening a lawsuit if the post isn't removed from the site.