NEWS
Tila Tequila "Trying to Get Away from This Horrible Nightmare"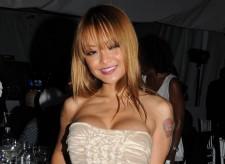 Reality TV hottie Tila Tequila, currently locked in a he-said/she-said battle with now-ex boyfriend, NFL superstar Shawne Merriman over assault allegations, picked up her phone yesterday to reach out to her fans with a voicemail message.
"I'm just trying to get away from this horrible nightmare," she says in the message left on SayNow.com. "Everything's gonna be alright... I wish it never happened. I'm just trying to look forward now."
Article continues below advertisement
Tila thanks her fans and encourages them to give her a call at (860) 256 8452. "It'd be wonderful to hear your voices right now," she says. "Tell me some funny jokes; let me know what you're up to."
Listen to the whole message here: