NEWS
Tilda Swinton, James McAvoy, KT Tunstall Praise Scotland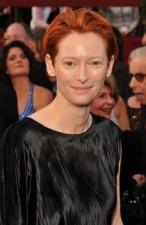 "Visit Scotland," Oscar winner Tilda Swinton says.
She lives an hour north of Inverness with her hubby John Byrne and 10-year-old twins Xavier and Honor.
What would we enjoy about it?
"Go to the Hebrides, on the West Coast, but don't all go at once because then it will be ruined," she says. "Go in dribs and drabs and spend as much money as you can on local products because then more people can actually subsist there."
Article continues below advertisement
What might surprise us about Scotland?
"It doesn't rain all the time," Tilda says.
KT Tunstall is another star who calls Scotland home.
The 32-year-old singer, who hails from Edinburgh, calls her homeland "fantastically picture-postcard beautiful," but she didn't always feel so passionately about spending time outdoors.
"My parents were very keen mountaineers and hill walkers, so we spent a lot of time up there," she tells me. "I actually really hated it as a kid. I would just be like, 'Why are we walking? We're not going anywhere.' Now I can't get enough of it. I absolutely love it. It's a real haven for me, going for a walk up in the hills."
The singer, who is engaged to drummer Luke Bullen, says she feels a deep connection to the Scottish landscape. "It feels like home to me."
James McAvoy, who is from Glasgow, is a fair-skinned Scot. He had trouble adjusting to the sun in Uganda while filming Last King of Scotland. "I was covered in SPF 30 and makeup, and then we took it up to SPF 60," he tells me. "I constantly had my makeup lady having nervous fits if I was in the sun for more than five minutes."
Want more reason to visit?
Family adventure flick The Water Horse: Legend of the Deep tells the tale of the Loch Ness Monster, which is rumored to reside near Inverness.
(I visited Aberdeen, Edinburgh, St. Andrews and Glasgow on a trip with my grandmother last year. It was great!)