NEWS
Tim Gunn Announces 'Project Runway' Season 10 Premiere Date!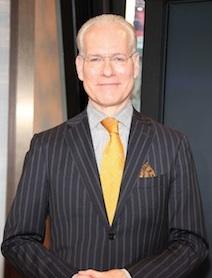 Hooray for Project Runway news! Season 10 will premiere on July 19! The news comes via Tim Gunn's official Facebook page.
OK! NEWS: DIET CONFESSIONS WITH TIM GUNN
Most recently, we endured the all-stars season, which was likely invented just to give Mondo Guerra the win he oh-so-deserved for his season (Which is fine, and we're sorry to remind you about GretchenGate. We also had to Google "Project Runway season 8 winner" to remind us what her name was again — Gretchen Jones.).
Article continues below advertisement
After what was perhaps the biggest upset in Runway history, we hung in there for season 9, hoping for a better outcome. Parties are divided regarding the outcome of this season, which awarded "I just learned to sew, like, yesterday" Anya Ayoung Chee the win. We liked Anya as a person, and we liked her designs, but... meh. We hope season 10 will crown someone who is truly an expert at their craft! We like to see the work!
OK! PROJECT RUNWAY ALL STARS RECAP: AND THE WINNER IS...
More fabulous news: Heidi Klum, Michael Kors and Nina Garcia are also all back! The All Stars panel (Angela Lindvall, Isaac Mizrahi, and Georgina Chapman grew on us, but nothing beats the original panel!)
No guest judges have been announced yet, but we'd love to see Georgina, Isaac and Joanna Coles, and some contestants from the past... Austin Scarlett? Santino? Who would you like to see?
Also! You can head to Times Square tomorrow for a sneak-peek at the 16 designers who are competing during season 10! They are putting on a live runway show, right there in front of your fashion-loving eyes.
Project Runway season 10 premieres on Thursday, July 19 at 9 p.m. on Lifetime. Will you be tuning in? We will (and we'll be recapping, too!).