NEWS
'Project Runway All Stars' Recap: And The Winner Is...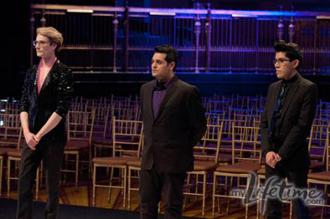 When we open this week, there is nothing left to create. There are no challenges given, not even very many expressions of self-doubt among our top three: Austin Scarlett, Mondo Guerra and Michael Costello. They know, that save for a couple of stitches and some final pressing, what's done is done.
We had a couple of choice moments in the beginning: Austin with curlers in his hair and Mondo helping Michael with his jacket, in particular. But very quickly, we were off to Gotham Hall, where the final runway show would take place. Austin says that the very idea of Gotham Hall is enough to give him "a fashion orgasm." We're not sure what's involved with that, but we suspect there's a burst of glitter, and a lot of giggling.
Article continues below advertisement
OK! NEWS: PROJECT RUNWAY ALL STARS RECAP: AND THEN THERE WERE THREE
There's the usual backstage drama, but we know everyone will pull it together in time. Let's get on to the runway, shall we?
Up first is Austin.
"It's called Austin Scarlett, and it's a story of a vampire from the 18th century who has lived many hundreds of years and now resides in Williamsburg and occasionally borrows clothes from her Hasidic dandy friends," Austin says of his collection.
We're not sure we would consider ourselves… whatever Austin said… but we totally loved his collection. His pink and black color palate was easily the most exciting of all three. He also showed the most textures, by far: there was lacquered lace, lame, leather, sequins and even a grand, romantic wedding gown with petals (which, contrary to the judges' critiques, did in fact fit fine into his collection – it was styled with leather gloves, for goodness' sake!) Seriously, the wedding dress was unlike any we have ever seen, and don't all wedding dresses start looking alike after a while? We don't think Austin got enough credit for his gown. Our favorites though, were his opening look (we loved the hip structure on those pants, and the sequin jacket) and the lacquered lace dress. Oh, and side note: we loved how Austin dressed to match his models.
Article continues below advertisement
Next up was Mondo (and completely lint-free, thanks to Joanna Coles!). He presented his "Therapy" collection, and it was very much what we expect from Mondo. We loved his opening look, and the tunic top he created from the excess fabrics. His finale dress was very pretty, also. To be honest, we weren't swept away by much else. We love how he color-blocked many of his sleeves, but he did that in his Season 8 finale collection.
With Austin's collection, we had to decide our favorites, but with Mondo's, we just had to decide what we liked. There is a big difference.
Michael went up next with his "Serenghetti" collection. Let's be honest. This competiton was really between Austin and Mondo once Rami Kashou was eliminated. Still, Michael surprised us. We appreciated that he pushed himself and didn't just send a bunch of draped gowns down the runway. He had jumpsuits, fitted dresses, shorts, and vests. Our favorites were the last two looks: the black-and-white pants and top that we thought was one piece until he explained they were separates, and the black-and-white gown with the vest.
Article continues below advertisement
OK! NEWS: PROJECT RUNWAY ALL STARS RECAP: READY-TO-SELL WITH NANETTE LEPORE
At judging, the designers are critiqued separately, and all of their models join them on the runway. Guest Judge Tommy Hilfiger condemns Austin for having a rock and roll vibe and then throwing in a wedding gown. Attention Tommy Hilfiger: "bride" does not automatically equal "princess." Georgina Chapman, the best judge ever, congratulated Austin for bringing youthfulness into a glamorous collection.
Mondo was congratulated, as always, for his use of prints. Isaac Mizrahi said it was the most cohesive of all three collections. During the judges' private discussion, Angela Lindvall said Mondo's collection wasn't as good as what he had done throughout the season, and we agree. Mondo set his own bar too high.
The judges liked the sophistication of Michael's collection, and appreciated that many of his looks were sexy, but not trashy. His major downfall is that he is a purely commercial designer in this competition with Michael and Mondo, who are more artistic.
Article continues below advertisement
And the winner of their own boutique in select Neiman Marcus stores, a spread in Marie Claire and a position as guest editor for one year, $100,000 in technology and office space from HP & Intel, a sewing and embroidery studio from Brother International, and a cash prize of $100,000 from L'Oreal Paris… is… Mondo!
We're not surprised at all, and we're sure no one else is either. Honestly, we liked Austin's collection more, but Mondo deserves the win just as much. And we can't feel too badly for Austin (or Michael) because they both got an awesome consolation prize: trips to Paris.
Well, that's All Stars. It's been rather tumultuous, wouldn't you say? We are ready for a break. See you in the summer for season 10!