NEWS
Tim Gunn is a Comic Book Super Hero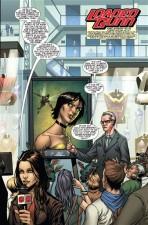 Tim Gunn has been working against the evil forces at work in fashion (can anyone say, "harem pants"?) and now that fight is transferring onto the pages of a new Marvel comic plot line starring the Project Runway guru: Loaded Gunn.
The story centers around Tim's mission to rescue a collection of superhero clothing from the bad guys, and is part of a book reintroducing high-fashion "Models Inc." characters from Marvel in the 1960s.
Article continues below advertisement
"It's a little America's Next Top Model - without Tyra Banks - and a little Teenage Mutant Ninja Turtles," Marvel editor Charlie Beckerman tells the Associated Press.
Tim, a childhood comic fan, says the experience has been "the most bizarre thing."
"It's exciting and exhilarating, but bizarre. When they came to me, I said, 'I'm about to turn 56 years old. Are they crazy?' But it kept revealing itself in layers and next thing, I'm wearing the `Iron Man' suit. I was dumbstruck."
Tim adds that he likes what his character is fighting for.
"Most superheroes are fighting the same thing -- good vs. evil -- but who's taking on crimes against fashion? Me!"