NEWS
Tim Gunn: "I Haven't Been On a Date in 26 Years"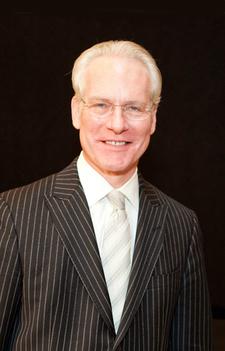 Tim Gunn is a natural chatterbox when it comes to style, but get him talking about Brad Pitt and Angelina Jolie and he really gets going. The Project Runway star is less effusive when talk turns to his love life, but insists he's happy with the lack of activity in that department.
OK!: Which celebrity has great style?
Oh, Angelina Jolie. She and Brad Pitt are Hollywood royalty. Everything about them looks perfect. They are beyond beautiful. Breathtaking, stunning.
Article continues below advertisement
OK!: Do you like Michelle Obama's style?
I am in complete disagreement with critics who say there's too much skin showing when she wears shift dresses. What are they talking about? It's an arm!
OK!: What would be your first act if you were president?
I would question the trillions of dollars we're spending on the Iraq war. I'd invest in medical care and education for all.
OK!: Are you messy or neat?
I have a dishwasher I never use because I can't stand the thought of dishes that aren't washed. I wash them after every meal.
OK!: How do you like to relax?
There's no greater pleasure for me than being alone in my apartment. I'd love to have a dog, but I'm away too much.
OK!: Would you do Dancing With the Stars or Celebrity Apprentice?
Never in a million years, even if they paid me all the money on earth, would I do either.
OK!: Are you in a relationship?
I haven't been on a date in 26 years laughs. So no, I have no relationship. I'm not even remotely looking. To have a relationship would require time. I don't have any time, so it wouldn't be fair to someone else. It might sound selfish, but I'm very happy being alone.
Article continues below advertisement
OK!: What's your advice for teens coming out?
It takes tremendous courage. I didn't know who I was when I was a teen. I didn't come to terms with any of it until my mid-twenties. I pushed all those feelings into the back of my being because I didn't know what to do with them. They just made me uncomfortable.
OK!: What's the biggest challenge you've overcome personally?
A debilitating stutter that I had until my late teens. I got over it with therapy and tenacity. Overcoming it allowed me to flourish socially when I had been extremely withdrawn.
OK!: You're supporting the Address Your Psoriasis! campaign. Why this cause?
I have a sister who has psoriasis. People with psoriasis feel like they can't be who they want to be fashion-wise. Our message is that, through proper treatment, you can do whatever you want in terms of lifestyle. (Go to www.addresspsoriasis.com for more information.)
OK!: Describe Heidi Klum.
She's the warmest, loveliest individual. She's never late and she knows everybody's name on the Project Runway crew. She's a doll. I just love her.
For more celebrity news, check out the new issue of OK!, on stands everywhere Thursday