NEWS
Tim Gunn Knocks Kirstie Alley's Size 4 Claim: "More Like 8 or 10"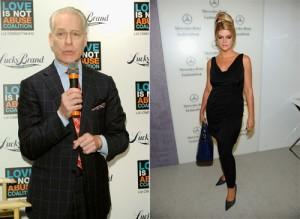 Kirstie Alley has been gaining a lot of attention since debut her recent weight loss, claiming that she lost 100 pounds and is down to her Dancing with the Stars goal — a size four! But fashion guru and Project Runway star Tim Gunn isn't buying it!
"I think she's between an 8 and a 10," Tim told Steve Kramer during an interview on That Guy Kramer morning show, on Tampa's Play 98.7, via Radar Online.
Article continues below advertisement
Kirstie braved the runway for designer Zang Toi's Spring 2012 Fashion Show earlier this week, debuting her slimmer physique in an eye-popping royal blue gown with rhinestone accents.
"I've lost 100 pounds," the 60-year-old actress told Entertainment Tonight Tuesday. "I feel like I'm back in my element. I honestly didn't even realize what I looked like."
She added: "Before Dancing with the Stars, I bought these dresses from size 14 to 4. They were all the same dress, and I said, 'You know what I really want? I really wanna be in this dress in a 4!'"
But Tim doesn't believe it.
"There is a phenomenon out there right now that I call the lying deceptive shell game of vanity sizing," he explained. "In fact a 4 is really a 6 or an 8. In our heads we're all a double zero!"
Tim did make sure to praise Kirstie for how she looks, regardless of the sizing.
"She looks fabulous. People are too size-conscious. It's all about how you look and more importantly how do you look in your clothes!"
See Kirstie rock the runway at NYC Fashion Week below! What do you think of her weight loss?