NEWS
Tim McGraw Grumpy with Record Label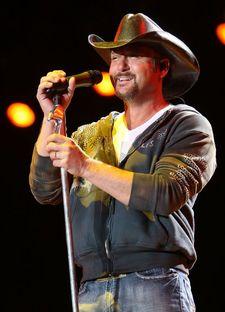 Generally jovial country singer Tim McGraw has a beef with his record label, Curb Records.
McGraw, who's married to Faith Hill, says the label released a greatest hits package of his songs without his approval and involvment.
In a statement Tuesday, Tim, 41, said he's been working on a new studio album for more than a year, playing some of the new songs on tour and planned to release the CD this fall.
Article continues below advertisement
Instead, he say Curb Records released the greatest hits collection--his third overall and second since 2006--last week to extend his recording contract term.
"I'm saddened and disappointed that my label chose to put out another hits album instead of new music," McGraw said. "I've only had one studio album since my lst hits package. It has to be just as confusing to the fans as it is to me."
The singer said he had no involvement in the creation or presentation of the record, Greatest Hits 3. The 12-track disc includes McGraw hits going back to 1995 and up to his current single, "Let It Go".
It also includes two tracks not previously released on any of McGraw's albums: "Find Out Who Your Friends Are" with Tracy Lawrence and Kenny Chesney, and "Nine Lives" with the rock group Def Leppard.
''Sure I love the songs and I don't want to take anything away from all the creative people who were part of making those records. But the whole concept is an embarrassment to me as an artist," McGraw said, adding, ''In the spirit of the election year, I would simply say to my fans 'I'm Tim McGraw and I don't approve their message.'"
McGraw has been with Curb, an independent label, since his 1993 debut.