NEWS
That Time OK! Caught Up With Ashley Benson Over Slurpees At 7-Eleven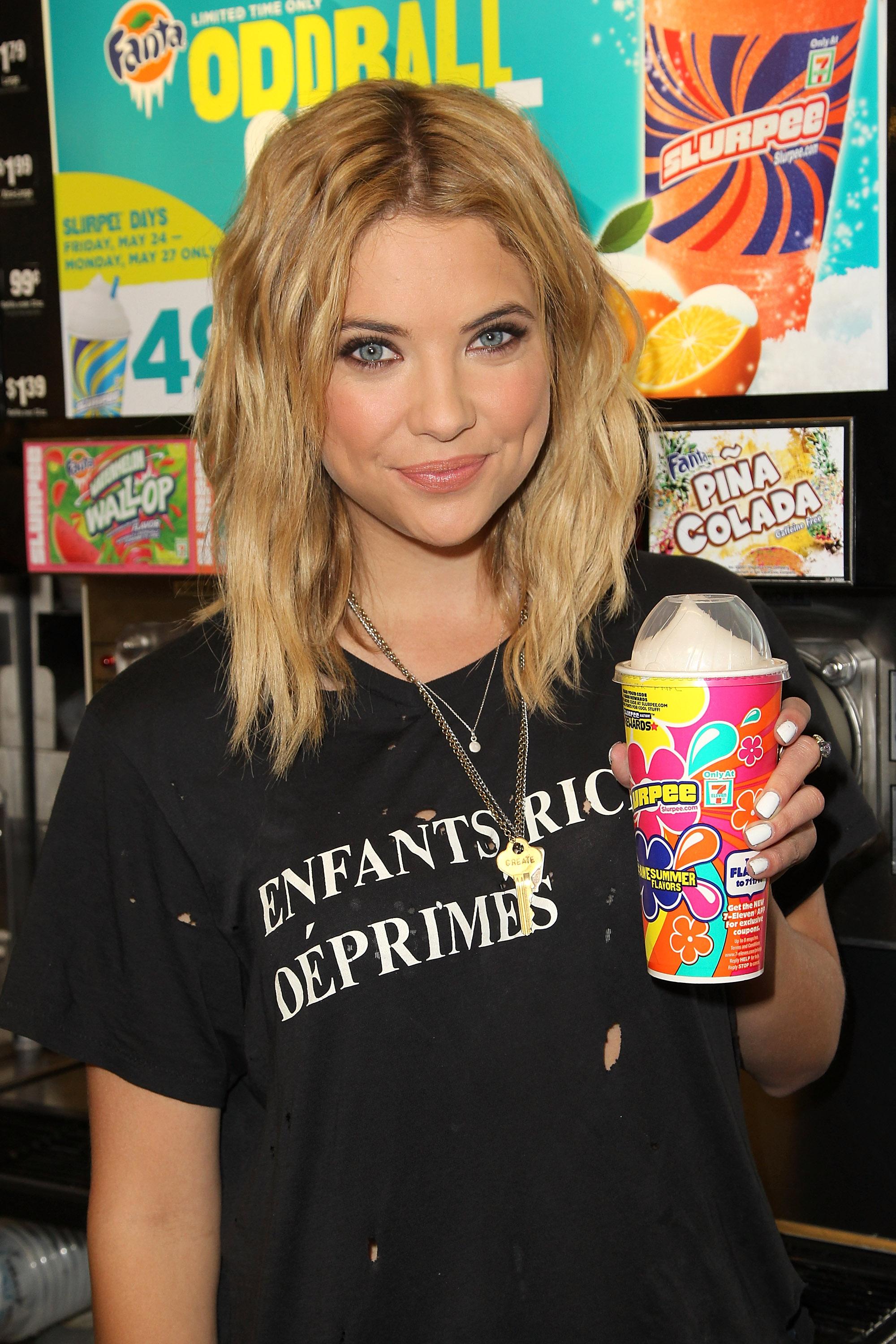 Nothing lifts my spirits better than a good Coca-Cola slurpee from 7-Eleven, so when I was invited to interview Ashley Benson as she kicked off Summer Slurpee Days with the inaugural sip of the season, I was so there. Pretty Little Liars gossip and my favorite frozen beverage? You don't have to ask me twice.
Watch: What's On Danielle Fishel's Wedding Registry?
Ashley, who was wearing a cute Enfants Riches Déprimés tee, sipped the chain's new Slurpee Lite Sugar Free Sprite flavor while I enjoyed my Coke variety (what can I say, I'm loyal). Take a peek at our convo below!
Article continues below advertisement
OK!: What's your earliest slurpee memory?
Ashley Benson: My dad goes to 7-Eleven for all of his coffee so I grew up going there and I would always get a slurpee. And then me and my friends get slurpees all the time during the summer because I get hot and sweaty really easily. Their new light flavor is half the calories, there's no sugar—it's great for summer.
OK!: Are you a purist or do you mix them up?
AB: I like to mix them up, but I do like the coke flavor and I like this new Lite Sprite flavor. It's very hard to say. But that's it—the soda flavors I love.
Photos: Groom Your Guy With 8 Easy-To-Use Products
OK!: What can you tease about the upcoming season of PLL? I need to know who is in that trunk.
AB: It's going to be pretty crazy. I'm excited for people to find out who's in the trunk. I'm excited to see how fans like my storyline with my mom and I. We get into a lot of trouble this season. Caleb, my poor Tyler's leaving me (for new ABC Family series Ravenswood), I'm really upset. There's a lot that goes on. I think the biggest thing for me…I don't care about any storyline, it's just that my baby Tyler is leaving me. We have a crazy Halloween episode this year. It's going to be amazing.
Article continues below advertisement
OK!: Would you like to do a crossover with Ravenswood?
AB: There have been a few conversations that have been brought up. I don't know for sure if we're going to but if they do I'd love to because I want to see my Tyler.
OK! News: Jennifer Hudson Signs On To Judge 'American Idol'
OK!: What advice would you give to the cast of Ravenswood? I'm expecting it to blow up like PLL.
AB: I know it's going to be big. They have such a great creative team behind that show. They've made our show what it is so I think it's going to do really well. But just enjoy it!
MORE ON:
pretty little liars
OK!: How do you feel about Mona joining forces with the girls this season?
AB: I find it so weird. It's such a good storyline but it's hard for Hanna. She's done so much to Hanna and she has to befriend her and use her in a way to find out what's going on but I'm just like, "Ugh! This sucks!" But it's good, it's good for the storyline.
Watch: Tour Lulu Johnson's Fabulous Closet
OK!: What do you have going on for the summer?
Article continues below advertisement
AB: I get a week off for Fourth of July. I'm going to Europe. And then just working, hanging out with my friends on the weekends. I don't really like to vacation. I'm surprised I'm actually going on vacation. I love to work. But I'm just going to go to Europe for a week.
OK!: But Europe can keep you busy—so much to see.
AB: And that's the thing, I'm going with one of my friends who has lived all around the world—she's lived in Rome, Paris, Switzerland, Germany—everywhere. So I'll have something to do all the time, not just be like, "What to do? What to do?"
Photos: 'Housewives' Fashion Looks You Need To See
OK!: Is there any place you're really psyched to see?
AB: I've been to Paris. I've been to Rome. I've never been to Switzerland so I'm excited to go there. I'd love to travel everywhere but I just don't have time. I went to Paris for four days in February and then I was I in Rome for 12 hours. So I'm going to Rome again because it's beautiful there and Paris is amazing.
OK!: As far as work this summer, is it just PLL keeping you busy or are there other projects in the works?
AB: Not that I can talk about at the moment but, yes, I have other things that are awesome but I'll be able to say it when I can say it. But, yes, PLL is going to keep me busy.
Treat yourself with 49-cent medium-sized Slurpees at 7-Elevens nationwide through Memorial Day Weekend.
What are you looking forward to about the upcoming season of PLL? Tell me in the comments below or tweet @OKMagazine.