NEWS
Timeline: Britney's First Day of Freedom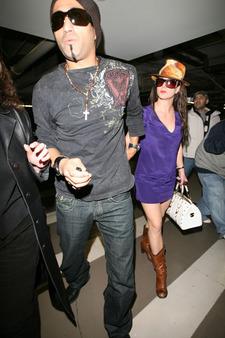 In a surprising development, Britney Spears was released on Wednesday morning from her court-ordered hospitalization at UCLA Medical Center in Los Angeles. What follows are the highlights of her antics in the hours following her exit from the hospital.
1:20 p.m.: OK! confirms that Britney has been unexpectedly released from her court-ordered hospitalization after doctors determine she is no longer a danger to herself or others.
Article continues below advertisement
2 p.m.: Britney is spotted driving erratically around the San Fernando Valley in her brand new black Mercedes-Benz. In the passenger seat is a bodyguard, believed to be the same former Israeli military officer who bodyguards for Lindsay Lohan.
3 p.m.: After several shouting matches with the paparazzi, the bodyguard in the car with Britney is evicted from the car by the side of the road in Brentwood. Brit moves to the passenger seat and asks a photographer from X17 photo agency to drive for her.
3:15 p.m.: Britney's car arrives at the Beverly Hills Hotel. While the pop star is waiting for a room, she has a chance meeting with former TV newscaster, and First Lady of California, Maria Shriver.
4:40 p.m.: The singer's boyfriend, Adnan Ghalib, arrives at the Beverly Hills Hotel in his Mercedes convertible and is rushed up to Britney's room by security guards.
4:47 p.m.: Six LAPD officers arrived at the hotel. Rumors begin to circulate that Britney's parents are on their way to have her sent back to the hospital.
Article continues below advertisement
5:05 p.m.: An LAPD officer confirms to OK! that Britney was secreted out of the hotel in Adnan's car.
5:20 p.m.: Britney and Adnan arrived at a office building on Santa Monica Blvd. Adam Streisand, the lawyer , has an office in that building.
7 p.m.: Hiding under a blanket in the back of a paparazzi's car, Brit and Adnan manage to sneak out of Streisand's office building and return to the Beverly Hills Hotel, where a heavy police presence remains.
9 p.m.: Brit's father Jamie arrives at the Beverly Hills Hotel and talks to the concierge. According to one eyewitness, Jamie "looks very tired... like he just wants someone to help him out." A few minutes later, Jamie is led to a private conference room.
9:20 p.m.: The number of police officers at the Beverly Hills Hotel increases and they begin gathering in the lobby, outside in the valet parking area and upstairs on the second floor of the hotel, where Britney and Adnan are holed up in a room together.
9:30 p.m.: Jamie Spears enters Britney's room with what is believed to be legal documents in his hand. Meanwhile, down in the hotel's private parking garage, a number of hotel guards are keeping watch on Brit's Mercedes.
Midnight: Sources confirm to OK! that Britney and Adnan have been taken home by the same X17 photographer who drove Brit to the hotel earlier in the day. Brit's car remains in the hotel's garage while Adnan's is driven by an associate to the offices of his former photo agency.